I went and saw Odd Future last week in Columbus.  The picture above has Odd Future performing with a 12 year-old kid onstage they brought up from the crowd. Now, I cannot say that I would advocate bringing a 12 year-old anywhere but he is pretty symbolic of Odd Future's success. I do not buy underage people booze at the store when they stop me and and say, "hey will you buy me some booze?" I say "you should find Walmart edited versions of Boots Riley songs."
But I will say 7th grade for me was Slayer & gangsta rap.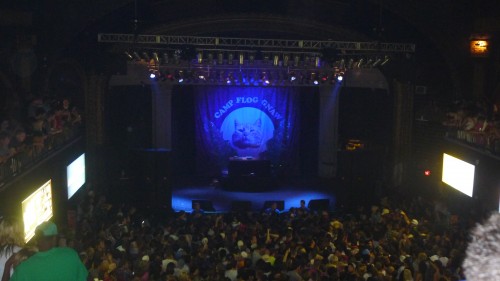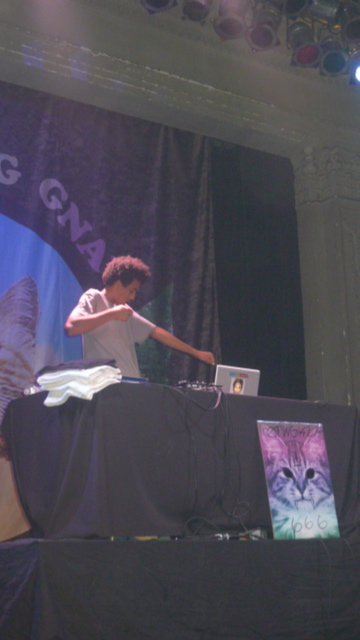 I was also really happy when Taco who is actually my favorite member of Odd Future came out and played DMX's "Up In Here", Montell Jordon's "This is How We Do It", Cam'ron's "I Used to Get it Ohio", Lil B's "Swag like Ohio", Chief Keef  "I Don't Like" and some other songs.
I told all the minors  to keep Guillermo Vargas in mind when they listen to Chief Keef.
Not actually, I deludedly decided that Taco playing "I Used TO Get It In Ohio", was because all rappers and random rappers friends read this blog. I had the same delusion when Jay Electronica, Wale, and Drake referenced "I Used to Get It in Ohio" during their Columbus shows over the years.
The only way to prove me wrong is if each rapper twitters denying this is true.
And "I Don't like" did sound hard as fuck at the Newport.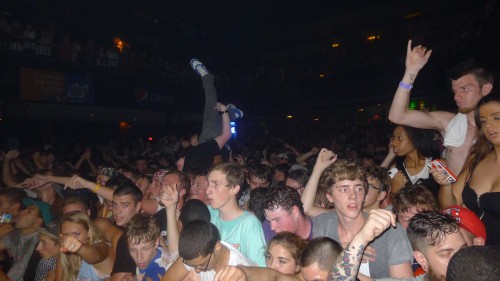 I can't front. I enjoyed seeing people have fun.  People were so stoked. The Odd Future show was sold-out. People were freakin' crowd surfing before OF even came out. So looking up to sold-out Newport  moshing to"I Used to Get It In Ohio" was worth being there alone.  Hell, last time I saw Cam it wasn't at the Newport. So thank you Taco.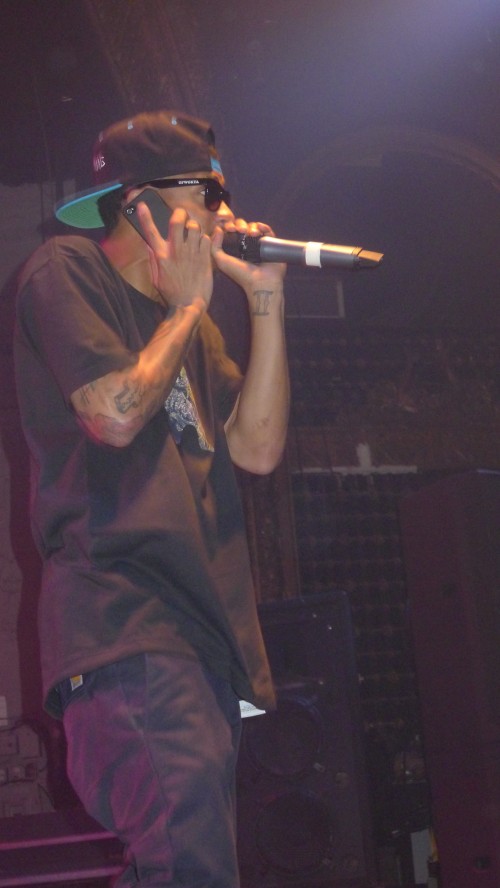 Odd Future doesn't plan their sets and this show was over a week ago so I am gonna use that as my excuse of not remembering the exact order of songs. I will say Mellowhype's Hodgy Beats definately played "64" and his current single "La Bonita" at some point in the evening. Neither one of these songs were at the beginning. But it was pretty fly that he made his entrance this evening rapping while talking into his cellphone.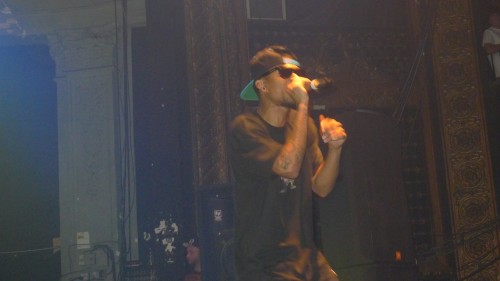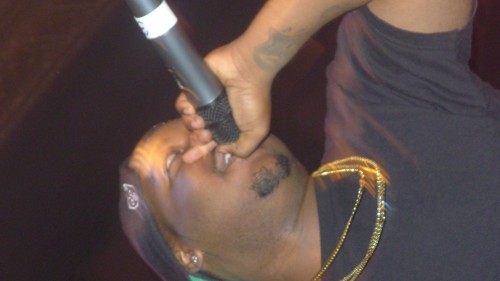 Domo Genesis does not look like this.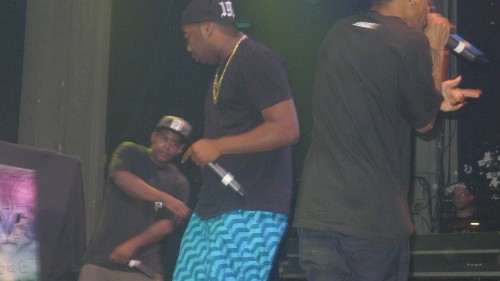 I say that to say this: Odd Future are on television and also you-tube stars. So Hodgy Beats and Domo are straight-up underground rappers that don't have to ask people to support real hip hop or  conversely try to write hits.
Their you-tube, twitter and TV characters only requires them to be dudes that can rap, make good rap songs and hang out with their friends naturally. HUGE advantage over everyone else. This should also be appreciated about OF. Their unique place in entertainment allows them to not make commercial records and just straight up rap to 1500 teens in Columbus, Ohio.
I would draw comparisons to the Living Legends but it would'nt be accurate.
Then again, what if "La Bonita" or a future a Hodgy Beats sing became a radio hit? There is always that chance.  Dudes are backed by Sony these days.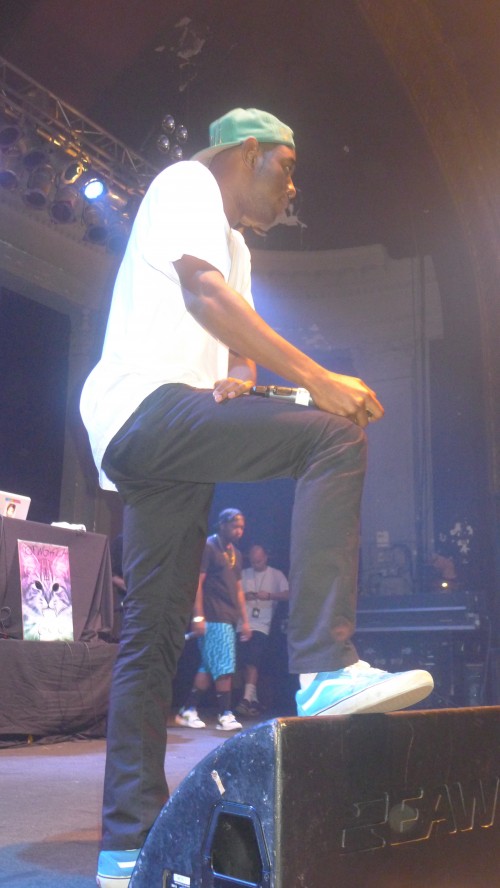 Tyler played some new stuff that were basically thrash metal songs without guitars or metal aesthetics. Just hella fast. They work really well in performance but it would be interesting to see how a whole record of songs made at hardcore tempo would be received. Definately a new sound that has never been heard.
He also did "Lemonade", "Bastard", "Transylvania" and shit like that.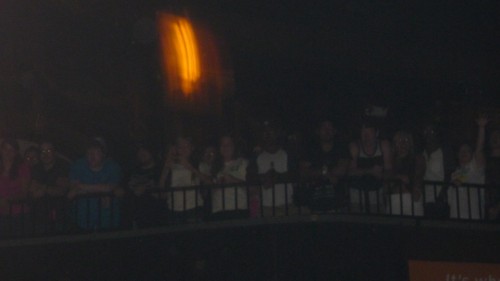 Above the picture of the 12 year old on stage with Odd Future? Do you remember your first concert? I wonder how that kid feels.
I do not know why I do not have pictures of Left Brain. I am sorry. He was dressed cool. People complained about Syd, Earl and Frank Ocean not being there. Did you honestly think Frank Ocean was gonna be there? He has sold like 300,000 records and will keep getting bigger on when he wins Grammys and shit like that. Plus he fucks both men and woman? Busy guy.
Odd Future does not have openers. They play for like 90 minutes to 2 hours. And they also don't lose the crowd's attention ever. People don't stop moshing or singing along.
They also don't have a set-list. Normally the lack of structure would be annoying but dudes chasing each other around on stage goofballing and pausing for a second to figure out what song is fits being on an Adult Swim Show called Loiter Squad .  It doesn't hurt to have 1500 kids being stoked and going nuts keeps the energy right.  So they can do any song from their catalog and it's still enjoyable.
It probably wouldn't work on someone who isn't sold on OF and that is something I guess they will have to figure out if they want engage casual fans or take their performance to a refined level later in time.
My assumption is that if they start doing solo sets or tours then dudes will step up their game individually.
But as long as they are on television people will have fun with the complete experience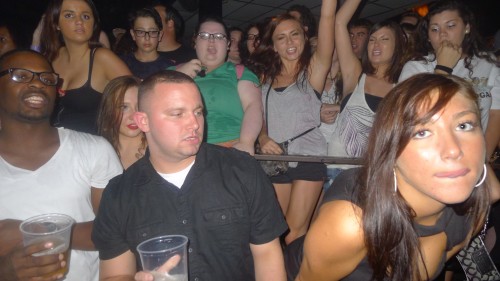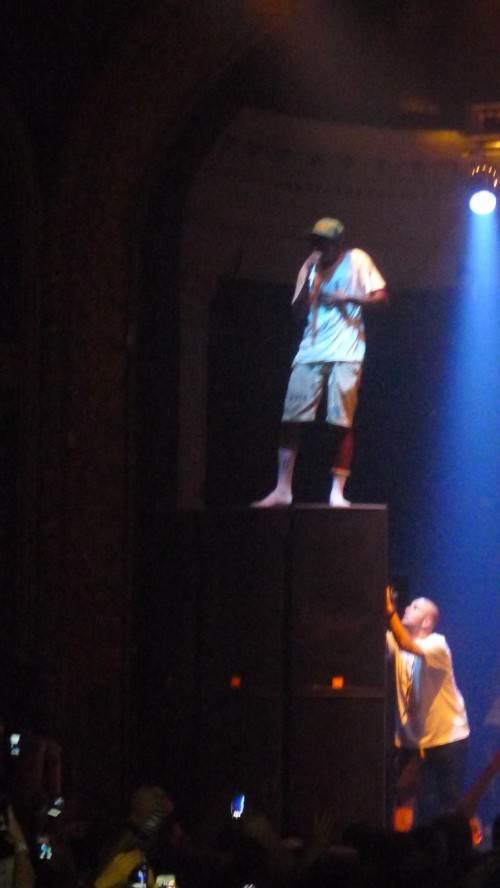 Another thing I found nice about their dynamic is that no matter what the subject matter, there was never an over abundance of negative testorone. To be honest when I first heard the joke-song "Bitch Suck Dick  I liked the idea of people yelling something offensive but feared it might be uncomfortable to be in a room full of males yelling BITCH SUCK DICK.  I am not a girl and I am saying this.
But the funny thing at the show was that the women were yellling it too. And there was no feeling of sexual harassment. People were all enjoying the same joke.
Like when Tyler, the Creator got top the speakers and did that one song that had the video where he hung himself; you didn't get the feeling of a mass suicide or like people in the crowd were going to home and cut themselves.
You got the feeling that Tyler had truely harnessed and articulated a certain internal contempt  that life brings which is as basic as reading Catcher in the Rye.  People were celebrating with anger not crying when this song is on.
I know the difference. I saw Fiona Apple at the House of Blues a few years ago.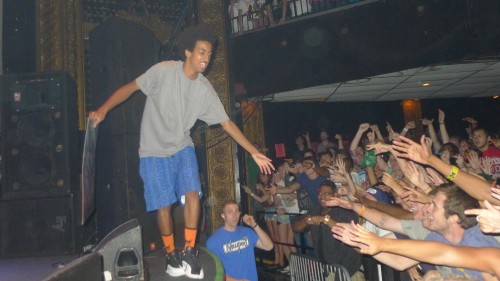 OF is pretty smart . Why rap about other people's clothes or some sneakers when you can design your own shit?  The crowd was decked out in OFWGKTA shirts and pretty much nothing else except maybe Supreme. I guess I am saying the sneaker underground is somewhat limited in it's appeal and ceiling.
Indie rap, underground rap, whatever you want to call is solid right now though there is huge disparity between as Odd Future, A$ap Rocky, Atmosphere, and Machine Gun Kelly are oudrawing pretty much everyone else by at least 700 people. You can draw your own conclusions on how these artists are presented and the common thread in marketing.
I am not including Kendrick Lamar or Danny Brown in this statement because Kendrick Lamar is earmarked for a difference kind of success and Danny Brown may be where OF is next year.
I guess my point is I had fun at the Odd Future show and it's partly because alot of people had fun at the Odd Future show.
Mellowhype's new album Numbers comes out October 9th.