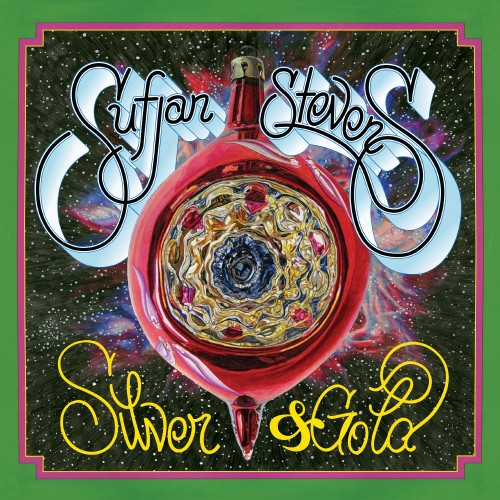 Great news from Asthmatic Kitty. Apparently all those Christmas teaser videos were a harbinger after all. (And no, it's never too early for Christmas music.) Details:
"Happy Holidays! On November 13, 2012, Asthmatic Kitty Records will release (another!) Christmas box-set extravaganza by the implacable singer/songwriter Sufjan Stevens—Silver & Gold: Songs for Christmas, Vols. 6-10, a compilation of 5 EPs recorded between 2006 and 2010.
Expanding on the tradition of the first box-set (Songs for Christmas, Vols. 1-5 from 2006), Silver & Gold is a generous document of five more years of holly-jolly jubilee — Christmas caroling, sleigh-bell-ringing, collaborative songwriting — undertaken by Sufjan and his various musical cohorts. Originally intended as gifts for family and friends, these musical snapshots have been re-mixed and re-assembled for the public in an exquisitely-designed gift box containing all the Yuletide pleasures money can buy: Christmas stickers, temporary tattoos, lyric sheets and chord charts, a paper ornament, an apocalyptic pull-out poster, photos, illustrations, and extensive liner notes—a veritable Christmas feast for the eyes and ears.

The album features collaborations with a running line-up of friends and musical peers, including Aaron and Bryce Dessner (The National), Richard Reed Parry (Arcade Fire), Cat Martino (Sufjan's right-hand woman on all things Age of Adz), Sebastian Krueger (Inlets), Gabriel Kahane, Vesper Stamper, and members of Danielson (Daniel, Elin, Lilly, and Ida). Sufjan's own indelible aesthetic and his tireless oblique strategies (in vain pursuit of the perfect Christmas song) maintain the album's center of gravity, resulting in an abundant compilation (nearly 60 tracks) that investigates the canon of devotional hymns and holiday pop songs with reckless abandon (totaling nearly three hours of music).
Silver & Gold surpasses its predecessor both in style and scope by taking a wider stance and embracing a more liberal ethos. The box-set sails through musical fashions as various as ornaments on a Christmas tree (covering songs from John Dowland to Johnny Marks). The folksy old-world renaissance of Gloria (Vol. 6) gives way to bi-polar impertinence on I Am Santa's Helper (Vol. 7). Christmas Infinity Voyage (Vol. 8) looks to the cosmos (and the drum machine) for inspiration, while Let It Snow (Vol. 9) and Christmas Unicorn (Vol.10) show a giddy return to form, unselfconsciously reveling in all the bubble-gum show tunes from the 1950s and 60s ("A Holly Jolly Christmas," "Sleigh Ride," and "I'll Be Home For Christmas," to name a few).
There are also 18 original songs intermixed throughout (some of them co-written or wholly composed by guest collaborators). Sufjan's contribution to the Christmas canon exhibits an ever-expanding canopy of approaches: there's the moody and affectionate Christmas ballad ("Happy Karma Christmas"), an ecclesiastical take on the Burl Ives classic "Silver & Gold" (re-titled here as "Justice Delivers Its Gift"), the rowdy, garage-rock, rumble-in-the-snow-bank ("Mr. Frosty Man") and the psychedelic pop-anthem ("Christmas Unicorn") that attempts to reconcile new age magic, fantasy fiction, and the commodification of Christmas with expository deftness.
Silver & Gold is more than just another Christmas album, but an ongoing exercise in theme and variation, an annual tradition that offers this songwriter a chance to experiment with fashion and technique without taking himself too seriously. Sufjan's playful (yet purposeful) expedition through the superficial landscape of sugar plum fairies and marshmallow fluff has produced an exuberant musical account of "all things Christmas" in the pursuit of the sublime. What distinguishes this project from the glut of Christmas albums saturating the market today are Sufjan's unguarded enthusiasm for the genre itself (the sense of freedom he shows in celebrating with reverence and rebellion) and the belief that Christmas music contains a multiplicity of sacred and secular significance (from Baby Jesus to Babes in Toyland) that is ultimately ours for the taking. It's safe to say that no one has taken it further than Sufjan, for better and for worse.
Thanks for listening and may all your Christmas dreams come true.
Silver & Gold will be available in digital download, a CD box-set available November 13th, with a limited edition of 2000 vinyl box-sets available later this year or early 2013.
A special edition of the vinyl boxset, which will include some extra surprises, is available to US/Canada/EU for pre-order:
http://sufjanstevens.bandcamp.com/album/silver-gold
The CD Boxset includes:
1. Five CD EPs
2. Christmas stickers
3. Temporary tattoos (non-toxic & safe for children)
4. A paper ornament (self-assembly with directions)
5. An apocalyptic pull-out poster
6. Song lyrics and chord charts (sing along with your friends and enemies)
7. Hallucinogenic photographs and psychedelic graphic design (by Sufjan Stevens, drug-free since 1975)
8. Extensive liner notes (introductory salutations and an essay on the Christmas tree by Sufjan Stevens, and a few theological words on the End Times by Pastor Vito Aiuto)
The vinyl boxset includes:
1. Five EPs on 6 vinyl discs
2. Christmas stickers
3. Temporary tattoos
4. A paper ornament
5. A 40-page Christmas songbook with vocal and piano reductions
6. A Christmas coloring book
7. Hallucinogenic photographs and psychedelic graphic design
8. Extensive liner notes
Musical collaborators and contributors to this album include: Aaron Dessner, Bryce Dessner, Richard Reed Parry, Clara Claus, Olivier Manchon, Marla Hansen, Raymond Byron Raposa, Gabriel Kahane, Daniel, Elin, Lilly & Ida Smith, C.J. Camerieri, James McAlister, Casey Foubert, David Stith, Alex Sopp, Vesper Stamper, Cat Martino, Sayard
Egan, Rosie Thomas, Sonya Hofer, Sebastian Krueger, Nathan Lithgow, and Brian Wolfe.