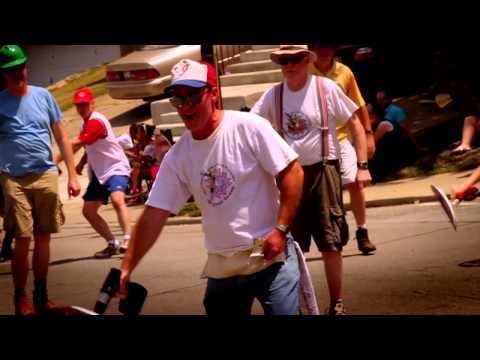 Ohio's WHY? kicked off the U.S. leg of their world tour at The Lois & Richard Rosenthal Center for Contemporary Art in Cincinnati last night. Hot on the heels of two 2012 releases – the Sod in the Seed EP (August) and Mumps, etc. (October) – WHY? were greeted with great warmth by their hometown crowd.
Now with an added drummer and two female musicians/vocalists, the band played in horseshoe formation to a sold-out audience. WHY? performed in the Black Box Theatre of the aforementioned art center. It was a tranquil environment – a lovely place to see them play before their hometown crowd (the Wolf Brothers and multi-instrumentalist Doug McDiarmid all went to Walnut Hills High School in Cincinnati).

Here's a picture of drummer/founding member Josiah Wolf and multi-instrumentalist/backing vocalist Liz Hodson. All the live shots we took were blown-out and super shitty. Nonetheless, I wanted to include a photo that was pertinent to the evening, so I'm posting this one. To note: I asked not to be in the picture, however, they insisted, so I obliged under the condition that I got to hold Liz's migraine-nursing ice bag she'd been applying to her head.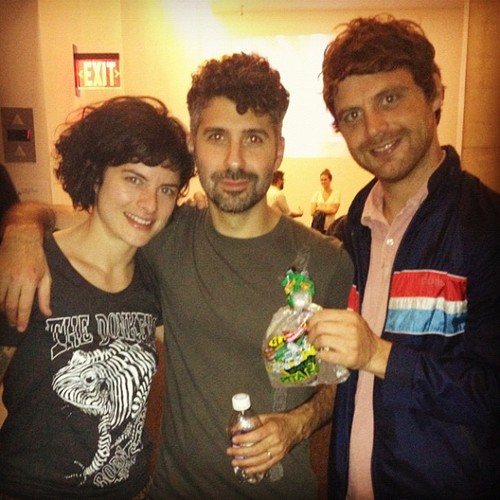 WHY? Autumn 2012 U.S. Tour:
~ w/The Black Swans
? w/Naytronix
? w/Kitty Pryde
10-18 – Cincinnati, OH – The Lois and Richard Rosenthal Center for Contemporary Art Black Box Theatre
10-19 – Chicago, IL – Lincoln Hall ?~
10-20 – Pittsburgh, PA – Altar ?~
10-21 – Brooklyn, NY – Music Hall Of Williamsburg ?~
10-23 – Charlottesville, VA – Newcomb Ballroom at UVA ?~
10-24 – Richmond, VA – Canal Club ?~
10-25 – Athens, GA – The 40 Watt ?~
10-26 – Jacksonville, FL – Jack Rabbits ??~
10-27 – Orlando, FL – The Social ??~
10-28 – Tampa, FL – The Crowbar ?~
10-29 – Tallahassee, FL – Club Downunder ?~
10-30 – Mobile, AL – Alabama Music Box ?~
10-31 – Baton Rouge, LA – Spanish Moon ?~
11-01 – Houston, TX – Walter's ?~
11-02 – Dallas, TX – Sons Of Hermann Hall ?~
11-03 – Austin, TX – Fun Fun Fun Fest
11-04 – Oklahoma City, OK – ACM@UCO Performance Lab ?~
11-05 – St Louis, MO – Luminary Arts ?~
Tour Promo Video: