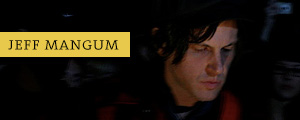 Jeff Mangum announced a string of 2013 tour dates today, including a January 14th date at Southern Theatre.
Today, Jeff Mangum announced a new run of tour dates beginning January 9 in Buffalo, NY and wrapping up February 16 in North Adams, MA. Support will include Tall Firs, Briars of North America and the Music Tapes. A portion of the proceeds for these shows will benefit Children of the Blue Sky, which aims to place orphaned Mongolian children with foster families. A full list of Jeff Mangum tour dates and all up-to-date ticket information can be found at GroundControlTouring.com.

Of Jeff Mangum's return to performing live, RollingStone.com said, "Few dared to expect it, but Jeff Mangum is back, and the music world is immeasurably richer for it." Spin.com offered "Five Reasons Why Jeff Mangum is Magical" saying, "For two generations of listeners who grew up with Mangum's intimate voice coming through the headphones, alone in that peculiar sound-world he conjured and feeling they were its sole inhabitant, this is the moment they've all been waiting for."

Upcoming Jeff Mangum Tour Dates:
Jan 9 Buffalo, NY Asbury Hall at Babeville
Jan 10 Pittsburgh, PA Carnegie Music Hall
Jan 11 Cleveland, OH Ohio City Masonic Temple
Jan 12 Detroit, MI Redford Theatre
Jan 14 Columbus, OH Southern Theatre (Read on for the full schedule)

Jan 15 Bloomington, IN Buskirk-Chumley
Jan 16 St. Louis, MO Sheldon Concert Hall
Jan 18 Lawrence, KS Liberty Hall
Jan 19 Oklahoma City, OK ACM at UCO – Performance Lab
Jan 20 Dallas, TX Majestic Theater
Jan 21 Houston, TX Cullen Theater at the Wortham Center
Jan 23 New Orleans, LA One Eyed Jacks
Jan 24 Tallahassee, FL The Moon
Jan 25 Gainesville, FL Florida Theater
Jan 26 Orlando, FL The Beacham
Jan 28 Augusta, GA Sky City
Jan 29 Charleston, SC Charleston Music Hall
Jan 30 Wilmington, NC Brooklyn Arts Center at St. Andrews
Jan 31 Charlotte, NC Neighborhood Theatre
Feb 1 Knoxville, TN Bijou Theatre
Feb 2 Asheville, NC The Grey Eagle
Feb 4 Charlottesville, VA Jefferson Theater
Feb 5 Wilmington, DE Dupont Theatre
Feb 6 York, PA Strand-Capitol Performing Arts Center
Feb 8 Hartford, CT The Great Hall in Union Station
Feb 9 Portland, ME State Theater
Feb 10 Providence, RI Lupo's Heartbreak Hotel
Feb 13 Ithaca, NY State Theatre
Feb 14 Clinton, NY Hamilton College Chapel
Feb 15 Poughkeepsie, NY Barvadon Opera House
Feb 16 North Adams, MA MASS MoCA

Support will be as follows:
Jan 9 – Jan 15 Tall Firs will be main support and Briars of North America will be first of three
Jan 16 – Feb 6 Tall Firs will be main support
Feb 8 – Feb 16 The Music Tapes will be main support and Tall Firs will be first of three, EXCEPT on Feb 14 at Hamilton College, where the only support will be Tall Firs. These Music Tapes shows will not be tent performances.