Noisey just dropped Action Bronson and the Alchemist's "Rare Chandeliers" Mixtape.
Rare Chandeliers features  Styles P, Mayhem Lauren, AG Da Coroner, Roc Marciano, Evidence, Schoolboy Q, Big Twin and Sean Price. It's like if Big Pun and Rammel-zee ate a four course meal at a strip-club after eating adderall and getting zooted. (No space or nasal) It's hella focused but bugged out in a purely NY sense.  Except it's produced by the Cali's Alchemist but he produces Mobb Deep and has Soul Assassin roots sooo .. WTF are you saying WESLEY? Peep the tracklist below and download above..
1. Big Body Bes Intro
2. Rare Chandeliers
3. The Symbol
4. Sylvester Lundgren Feat. Meyhem Lauren & Ag Da Coroner
5. Randy The Musical
6. Demolition Men Feat. Schoolboy Q
7. Eggs On The Third Floor
8. Modern Day Revelations Feat. Roc Marciano
9. Dennis Haskins
10. Bitch I Deserve You Feat. Evidence
11. Gateway To Wizardy Feat. Styles P
12. Blood Of The Goat Feat. Big Twin & Sean Price
13. Mike Vick
Tour-dates some solo and some with Cypress Hill after the jump.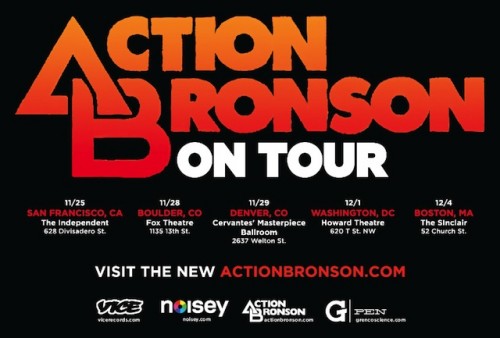 Action Bronson US Tour Dates
11/17 Atlanta, GA – The Tabernacle *
11/18/12 New Orleans, LA – House of Blues *
11/19/12 Houston, TX – Scout Bar *
11/21/12 – Austin, TX – Emo's East *
11/23/12 – Los Angeles, CA – House of Blues *
11/ 25 San Francisco, CA – The Independent
11/28 Boulder, CO – Fox Theater
11/29 Denver, CO – Cervantes' Masterpiece Ballroom
12/1 Washington, DC – Howard Theater
12/4 Boston, MA – The Sinclair
* with Cypress Hill
Action Bronson European Dates
12/11 Amsterdam , Netherlands – Melkweg
12/12 Paris , France – La Bellevilloise
12/13 Glasgow , United Kingdom – ABC
12/14 Manchester , United Kingdom – Manchester Academy 3
12/16 London , United Kingdom – The Garage
12/18 Dublin , Ireland – The Twisted Pepper
12/19 Milan , Italy – East End Studios
12/20/12 Mannheim , Germany – Alte Feurwache
12/21/12 Berlin , Germany – Prince Charles
12/22/12 Moscow , Russian Federation – 16 Tons
Action Bronson Australia & New Zealand Tour Dates (2013)
1/10 Auckland , New Zealand – The Studio
1/11 Wellington , New Zealand – Mighty Mighty
1/12 Sydney , Australia – The Manning Bar
1/17 Perth , Australia – The Bakery
1/18 Melbourne , Australia – The Laundry
1/19 Melbourne , Australia – Sugar Mountain Festival