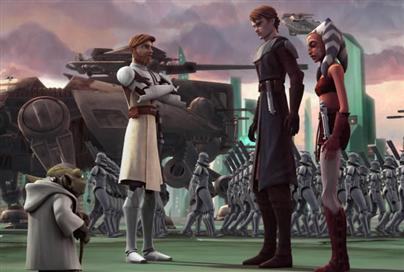 Is it possible that George Lucas would okay a new Star Wars film for the express purpose of shutting down all the mean things film critics have been saying about him over the course of his second trilogy of Star Wars flicks?
Probably not, but one could make the argument; after all, one of the very few pleasure of the new computer-animated Star Wars: Clone Wars is ticking off the ways it responds to common criticisms of the past few films, proving critics' assertions wrong.
For example, one of the most common complaints was that the reason the new trilogy was so goddam awful compared to the six-ilogy's crown jewel, 1980's The Empire Strikes Back, was that control freak Lucas was insisting on doing so much himself, instead of turning the scripting and directing over to more competent creators.
Well, Clone Wars is directed by animator Dave Filoni, not Lucas, and it's screenplay is written by Steven Melching and Scott Murphy. Lucas only gets credit for the "story" ("Okay, so these guys fight these guys, and then they do it again, and then they do it again, and that oughta kill 90 minutes") and for creating the "characters and universe."
And you know what? It's even more goddam awful than the last three movies. So there, smarty-pants critics! Continue reading →