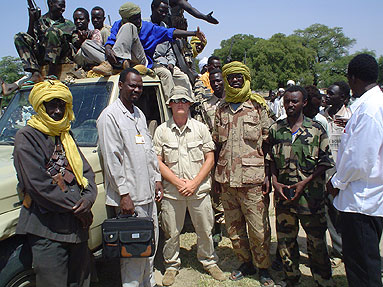 In the U.S., the majority of the major media discussion revolving around the crisis in Darfur had to do with whether or not anyone in the Bush administration would use the G-word when discussing it, and if and when they would step in and curb the genocide there, or if the wars in Iraq and Afghanistan would keep us out of intervention.
It also occurred during President Bush's first term which, at this point, was years ago.
As has increasingly become the case, documentary filmmakers have taken it upon themselves to talk about what the TV and print media can't or won't, and co-directors Annie Sundberg and Ricki Stern (whose previous collaboration was The Trials of Darryl Hunt, about a wrongly convicted man), have found themselves about as perfect as a protagonist as one could hope for in their Darfur documentary, The Devil Came on Horseback.