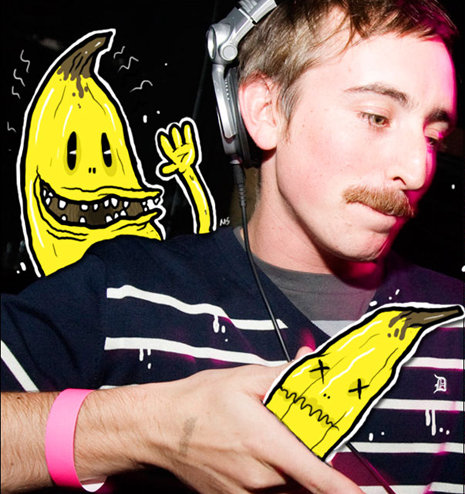 MP3:Kid Cudi, Kanye West, & Common-Make Her Say (Sammy_Bananas_Remix)
Sammy Banana's is playing at Bristol Bar this Friday along with CJ Townsend, and DJ Dan from Paradise Garage. He puts out music on Fool's Gold Records (A-trak, Kid Sister, Cool Kids etc). The New York Native dejays all-around the globe.
I met Sammy in the beginning of November. Dood booked Columbus' CJ Townsend to play at Piano's in the Lower East Side of Manhattan.
I was in the city, hanging out with Pat, and Mike of the Carney family
We met CJ and Lil Franz up at Piano's because it was CJ's 21st bday. (if you know me, ask me about me getting really drunk and stomping on a grown man's feet, and trying to run his pocket because I was confused of his intentions and didn't like how he looked in general)
Sammy played classic New York rap half the time, and house the other half.
CJ and Sammy sampled Gucci Mane's adlib "Burr" "Burr",and would press a button that would repeatedly make this adlib audible at random intervals whenever they felt like it.
Regardless of what music they were playing.
Be it Golded Era Hip Hop, House, New Jack Swing, Electro or Fidget R+B.
Even though we were drunk in NYC, it felt like we were in Columbus.
Sammy really likes R+B and New Jack Swing. He is huge fan of the 90's. So I figured I'd quiz him on his preferences.
In Living Color or SNL with Chris Rock?
In Living Color. I like the Fly Girls.

Living Single or Family Matters?
Neither.
Living Single was was the show that Friend's appropriated for white people like Elvis and Family Matters had Urkel.
Definately didn't watch Urkel.
Family Ties or Alf?
Alf. I'm fond of Aliens. I'm a a big XFIles fan.
Haha..perfect…Fresh Prince or Independence day
Independance Day is a good movie. But I'm going to go with Fresh Prince.
But Independence Day had aliens.
I said I like Indepedence Day. It is a good movie. But Fresh Prince captured the 90's, Fresh Prince had juxtapositions that allowed for comedic events to transpire.
Continue reading →