Tag Archives:
52 singles in 52 weeks
MP3: Single #2 – Heart to Haunt
From Ghost Shirt's 52 Singles in 52 Weeks project. (Says Branden about this one: "Yes, I do enjoy me some Elvis Costello.")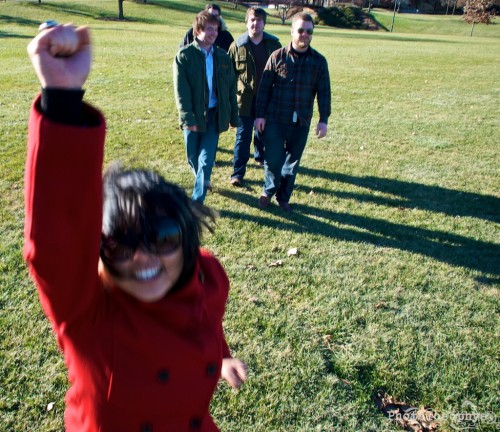 Lots going on in Ghost Shirt world. First off, the Columbus band has announced they're going to release a new single every week for all of 2010, and you can find them hear at Donewaiting.com first, usually on Friday or Saturday. That's the first single right up there, titled, appropriately, "Ghost Shirt." Singer/bandleader/force to be reckoned with Branden Barnett stresses the word "singles," too; these will be more than demos. About this first one, he says, "I have been listening to a tremendous amount of Television, Pulp and Low Era Bowie and I guess this is what came out." Barnett also promises to collaborate with other musicians on these singles at least once a month — "to make this a Columbus thing more than just a Ghost Shirt thing."
As if these dudes (and girl) weren't busy enough, they've also got their first LP coming out, and Bela Koe-Krompecher is resurrecting Anyway Records (Gaunt, New Bomb Turks, The Whiles, Moviola, Greenhorn…) to release it digitally and on vinyl. (Bela says he also plans on working with some other Columbus bands in the somewhat near future…). Domestique is currently being mixed by DJ of St. Moses the Black. Look for that sometime this year. And remember to check Donewaiting.com each week for the next Ghost Shirt single.
(Photo courtesy Meghan Ralston/Photolosophys)