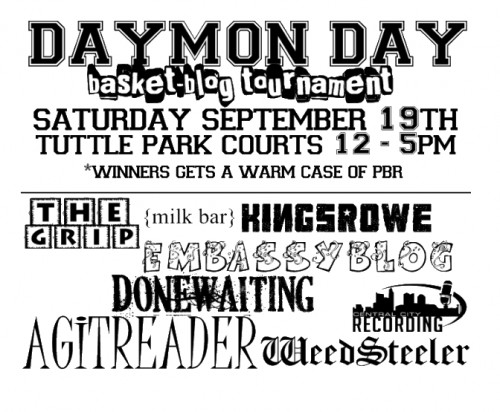 As mentioned before, Daymon Day will be returning to Tuttle Park 9-19-09. For more info on Daymon Day, and its parade, please read 614 Magazine's article on the event. 614 interviewed Envelope, Daymon's mom Judy and myself for the article.
As for the Basketball portion of the event, CJ Townsend organized a basketblog tourney, in which Team Donewaiting (DJ True Skills, Aleks Shaulov,Andrew Patton, and myself) will compete with Weedsteeler, Agit Reader, Milk Bar, Embassy, Kings Rowe,Central City Recordings, and The Grip for a warm case of PBR.
The bball tourney will be from 12 to 5 at Tuttle Park, Saturday 9-19. The Daymon Day Parade is scheduled to start at Tuttle Park @ 8pm.
(the grudge match right now is between Weedsteeler and the Grip. Or perhaps Weedsteeler and itself)