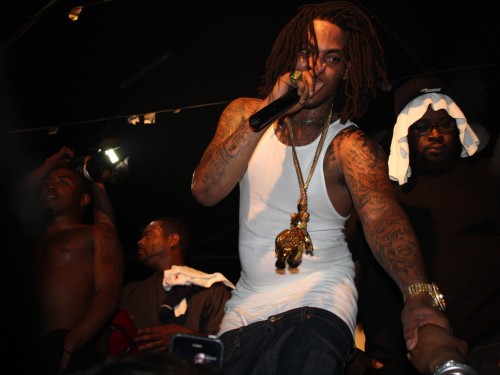 Awhile back I interviewed Waka Flocka Flame for this here website. I told him that alot of hardcore kids I know listen to him and not much much else. When I said that, I had no idea he would be getting all Earth Crisis on us. Maybe Thought Catalog was onto something when they used veganism to describe the Atlanta rapper in a review.
Yesterday, Waka Flocka told Hip Hopdx that he would join Lady Gaga, Mariah Carey, Pink, and other celebrities in PETA's "Ink Not Mink" campaign February 22nd.
Waka Flocka's argument for animal rights? Waka said, "Animals should be treated the same as you would a kid. Would you want someone just to walk up and skin your kid? Hell no!"
While, I like the idea of Waka channeling his violent ways Animal Liberation Front style, honestly this isn't that extreme.
Athletes likeA'mare Stoudemire, and Chad Ochocinco have posed nude to protest fur for PETA in the past.(nh)
While being a vegan myself, I am stoked one of my favorite rappers is taking stand for animal rights without having Erykah Badu putting a finger in his butthole. Something tells me Waka isn't vegan.
But if Waka is, or decides to embrace a cruelty free diet, I suggest eating at Soul Veg in Atlanta after a long day of bustin at em, and going hard in the paint. Things could get really interesting from there.