Update: from Rachael @ CD101: We have just announced a public remembrance for Andyman at the Newport Music Hall, this Thursday, from 7 to 10pm. Also, an Andy Davis Memorial Fund has been set up to benefit his family. Donations can be made at any Huntington National Bank branch or at the CD101 studios.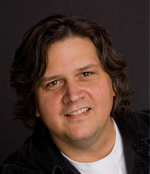 Very sad news in Columbus. CD101 deejay, program director, former namesake/owner of the Treehouse and Columbus institution Andy "Andyman" Davis passed away.
About 9:45pm tonight, CD101 (@102.5 FM) tweeted: "We pay tribute to @AndymanCD101 tonight at 10. He will be missed greatly." At 10pm, after playing a Wings song, Joe Jewett came on the air to announce that Andyman drowned on Saturday night while vacationing with his family in Michigan. He leaves behind a wife and three sons.
He'll be missed by many.