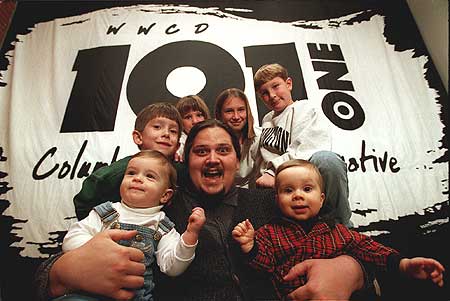 Each year around the holidays CD101(@102.5)FM lets listeners call in and make requests in exchange for a donation. The more money you give, the sooner your song gets played. All the money goes to CD101 for the Kids, which is then given to the Homeless Families Foundation, The Childhood League, Children's Hospital and other orgs.
In the past, Andy Davis stayed awake for 48 hours during this marathon — hence the name Andyman-a-Thon. This year will be the first time CD101 will undertake the Andyman-a-Thon without the event's namesake. His tragic passing over the summer is all the more reason to keep this annual tradition alive. So call in starting Friday at 7 pm: 614-221-1025.
There's a whole lot of items up for grabs in the Ebay auction, too: a surf board autographed by MGMT; autographed Gaslight Anthem and Decemberists posters (which I'd love to have for the Clint Reno art alone), Vampire Weekend and BRMC autographed drumheads, etc. More than 200 items in all.