When I sat down to recount my year, I hadn't even really registered what I got to see. All my friends moved away. I pretty  was miserable.
I spent the majority of the year hanging out by myself.
But now looking back, I was really fortunate this year.
I got to see the Black Keys spread love and become one of the biggest rock bands in America. RJD2 played our 7 Year Anniversary. Jay Electronica came to town and did a really intimate show then got signed 7-8 months later by Jay-z to Roc Nation. I solicited Wavves' opinion on Psychedelic Horseshit.  I witnessed  what Dame Dash's guy, Currensy ,was doing the night Jay Electronica signed with Jay-z.  I talked to Bone after a nationally publicized arrest. Well, read away if you want.
1.The Black Keys Lifestyles Community Center August 13th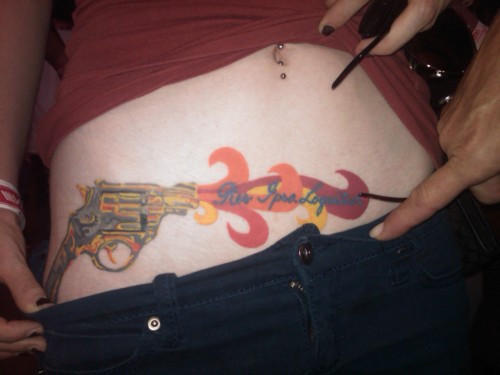 photo credit-ME
The image source of this tattoo is  from  the cover of Chulahoma,  an ep by the Black Keys. It is on the body of a female that had a family member die of cancer.   The finger pointing it out belongs to Mary Stormer,  Key's drummer Patrick Carney's mother.  Mary Stormer's son and Patrick's brother,  Michael created the image that is tattooed on this girl.  The girl got this tattoo because Chulahoma was what got her through hard times.
The tribute to Junior Kimbrough IS a blues record.
Mary Stormer, and I explained to the girl that the band would really appreciate this.  Mrs. Stormer told me to take a picture and send it to Michael. The band was onstage so they couldn't give the girl a hug. Continue reading →