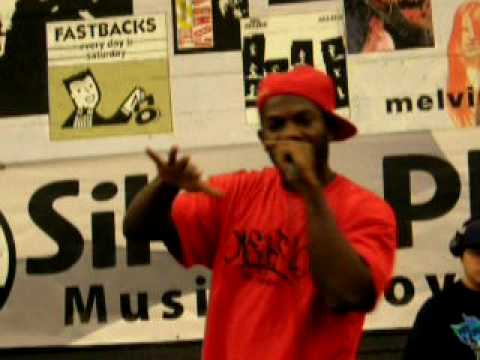 One Be Lo will be playing at Cafe Bourbon Street's weekly Hip Hop Night. So What Wednesdays. Locals Apocalypse Inc will open. Blueprint hosts. Detox and Pos 2 dejay.
Above is a video of Michigan Rapper, One Be Lo performing an accapella about his troubles with identity during his adolescence. Lo was in need of, as Grand Puba would say, the proper education. The accapella is pretty poignant but it is not 100 percent indicative the sound of his new album, The R.E.B.I.R.T.H. It is consistant of Lo's content which has always showed a soulful, personal and leftist slant . Hell, on his label's website Subterraneous Records.com he lists Ho Chi Minh, Marcus Garvey, John Brown and Fela Kuti among his hero's. However this record is different from previous efforts because it has the added punch of production by sometimey G-Unit/Freeway Producers, Jake One and Vitamin D. This has given, R.E.B.I.R.T.H. a more banging, neoteric sound compared to previous solid but a tad traditional efforts. But since he doesn't have any MP3's up for grab peep  One Be Lo's Myspace to hear what it sounds like.
One Be Lo has always been in an interesting cat to me because he has a strong National following in spite of not being on Def Jux, Rhymesayers, Babygrande or Stones Throw. When I worked the merch table for Soul Position's San Francisco show, One Be Lo had a long rabid line front of his table that he was posted up at after his opening performance. Lo is an anomaly in indie hop. He is an ardently DIY , Black Muslim from Pontiac, Michigan that doesn't have a publicist, or booking agent. Like I said earlier. No big indie label ties like an Ali, Lif or Doom. He isn't emo like Sage Francis, Slug or Aesop. He isn't shocking like Necro or Cage. Lo isn't artsy like El-P. Dood is for certain not a hipster like The Cool Kids or Spankrock. He doesn't have the Questlove co-signatures like Little Brother. Blueprint calls Lo "the gliche in the matrix". He did have a Pete Rock Remix on his last record but other than that somehow dood has a career without being in the machine.