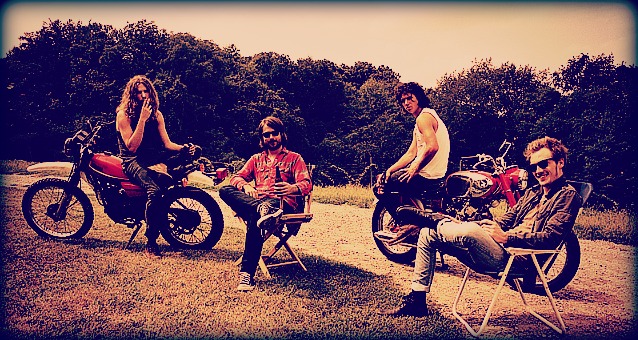 Turbo Fruits, Wooly Bullies (Cleveland) and Dirty Biscuits (Columbus) perform at Ace of Cups on Friday night. Doors at 9, $5 cover.
Jonas Stein got his start in the music biz as a guitarist in Be Your Own Pet, a noisy, indie rock band made up of Nashville teenagers. As a kid with a head full of music ideas, Stein started Turbo Fruits as a side project and then made it his full-time gig once BYOP disbanded in 2008.
Earlier this month, Turbo Fruits released their third album, Butter, featuring the killer opening track, "Where the Stars Don't Shine".
Before kicking off the Butter tour, Stein answered some questions I sent him via email.
Turbo Fruits is often called a "garage rock" band. Have you ever actually practiced, recorded or performed in a garage?
Hmmm we don't generally practice in a garage nor do we record in a garage but yes we have played many garages and garage-type places! We love playin shows like that when the time is right!
I read a review where somebody said, "Turbo Fruits are what Kings of Leon would sound like had their dad worked in a liquor store rather than been a traveling preacher." (Okay, I didn't really read that – it's how I described your sound to a friend recently). I know your dad is connected to the music biz. Did his record collection have any influence on you or did you discover music through friends/siblings/on your own?
Nice description! My Paps was pretty involved in the country music business while growing up. My influences came from a totally different direction. My older brother, Adam (RIP), gave me my first albums when I was 11 or 12 – Led Zeppelin II and some Bob Marley album. That definitely had an influence on my musical tastes. I grew up a musical outcast amongst a lot of my friends. They were always listening to Blink 182 and Sum 41 and other shit that I couldn't get into. I was always like "this shit sucks! let's listen to some fucking rock n roll!"
Continue reading →