Tag Archives:
Behind You With Knives
Comments Off on Tonight in Columbus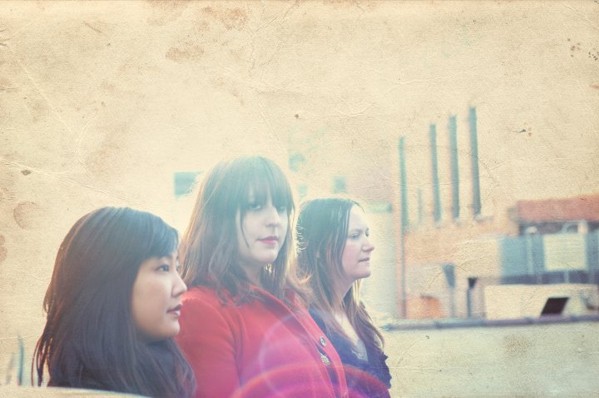 Photo credit to Gretchen King
MP3: Black Forest
If those three purty faces look familiar, it's likely because you've spied 'em as a part of any one of several bands currently making things happen around town. But if the three of them together kind of rattles a particular neuron or two, you were probably spending some quality time in High Street clubs in the early aughts. See, pictured above is ¾ of Frostiva, childhood friends who put together their first band in 2000 and cashed it in 4 years later. God love 'em for leaving the Frostiva website alive, as it's a nice look back on days passed- full of references to Little Brothers, Diet, Go Evol Shiki… hell even the Angelfire host is some pre-Myspace shit.
Since the demise of Frostiva, the talents of what is now of Behind You With Knives have been plenty in demand (Leslie – Church of the Red Museum, Flotation Walls, Moon High, Nick Tolford and Company; Faith – The Hills Have Eyes, Deerhead; Sharon – Teeth on Teeth, Guardylou). The reunion of these three as BYWK, only a few months old now, has them going in a little heavier direction. The project is young enough that when I first contacted them, there wasn't yet any recorded material for review, so based on some thin rumors about how they are going to sound, I fired off some questions for the band. As it turns out, literally moments before this thing hit the ol' blog page, MP3s of a promised 4-song demo materialized out the ether. The demo (cover art by Angie Redmond below) will be available at their first show on Saturday. Behind You With Knives will share the Carabar stage with Rosehips and American Jobs. (EDIT: American Jobs is a last-minute scratch. Suitable replacement is still in the works….)
Dumb questions and patient answers after the jump.. Continue reading →