It was a happy accident stumbling upon singer/songwriter Ryne Doughty in a bar last night in Des Moines. Truth be told, when I found out I needed to come to Iowa for a business trip, I did a little poking around to see what bands might be performing (on the docket for tonight – Columbus's own Blueprint at Vaudeville Mews) and I knew Doughty was going to be playing at El Bait Shop, a beer joint not that different from places like World of Beer and Bodega in Columbus (in other words, they have probably 100 beers on draft and another couple hundred in bottles).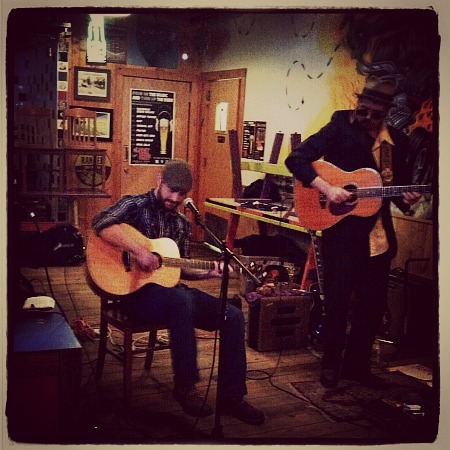 Turns out, the people I was with wanted to grab a drink after work and we headed to El Bait Shop. I couldn't have planned it better. Doughty and guitarist Darren Matthews (Thankful Dirt) set up in a corner and started playing around 8pm. We only stayed through the first set, but I became a fan within seconds of the first note being strummed. Doughty's one of those guys who's not really an alt-country artist but I think he's probably influenced by performers like Ryan Adams and Steve Earle (who he covered during the set). Columbus readers might understand this reference, Doughty's deeper vocals reminded me quite a bit of Sean Beal's (Feversmile, Train Meets Truck, Big Back Forty) and that, for people who know me, is a great compliment as Beal is one of my favorite singers to come out of Ohio.
Take a listen to Doughty's most recent release, To the Factory. He did tell me, during a break, that he's planning on releasing new material in the near future so stay tuned.