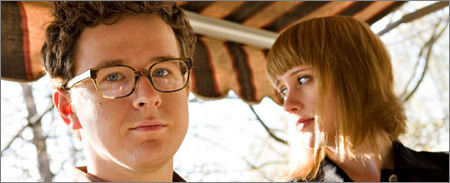 Donewaiting presents Blitzen Trapper and Wye Oak at Skully's on Tuesday, October 13. More info can be found here.
Before the interview begins, some obligatory praise for Wye Oak's sophomore release, The Knot (listen to it, in full, at the end of the interview). Admittedly I was relatively unfamiliar with the duo (Jenn Wasner – guitars/vocals, Andy Stack – drums, keyboards) other than checking out a couple of MP3s from If Children that we posted last year on the site. That being said, within the first 5 minutes of The Knot, I emailed the duo's publicist at Merge Records and said something to the effect of "Is it possible to fall in love with an entire CD before the second song has even ended? If so, I'll drop to one knee and propose to Wye Oak on the spot."
MP3: "Take It In"
The Knot opens with the spacey "Milk and Honey" – the subtle effects-pedal-drenched guitar hanging in the background (the guitar playing – and the song itself – remind me a lot of Ashland's Bel Auburn). It's the first – and last – song that Stack will provide lead vocals on on the CD. The rest of the CD works on the ebb and flow of slow to loud, loud to soft that bands that Wye Oak have compared to are so proficient in (Yo La Tengo, My Morning Jacket, The Spinanes). It's a beautiful sounding, at times loud and chaotic, CD and, as mentioned before, one that knocked me out from the get-go.
A few weeks into a tour with Blitzen Trapper, I sent Wye Oak some questions via email hoping they'd have internet access somewhere along the way. They did and the following are Jenn's answers to the questions I sent.
Have you found that touring with a band like Blitzen Trapper – a band with critical buzz – has led to a "fan" buzz? Have you been pleasently surprised with the attendance at shows so far on the tour or have you played to smaller crowds than expected?
The shows with BT have been so excellent! It's always interesting to play to audiences that aren't necessarily there to see you. It puts you in a position where you have to try to win people over, and that really provides a good bit of energy and excitement, especially when you've been playing shows for weeks and weeks. It's always really satisfying when you can get a good response out of an audience that's never heard your music before. Continue reading →