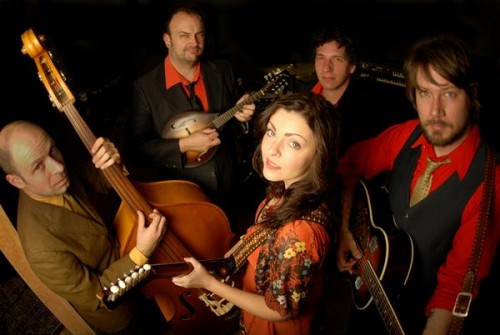 MP3: Hell or High Water by Blue Giant
I remember the first time I saw an M&M ice cream sandwich at the ice cream truck and thought, "Holy crap, I never thought of putting M&Ms, cookies and ice cream together but it makes more sense than anything else I've ever learned in this short life." That is sort of how I feel about Blue Giant, a new band that features Kevin and Anita Robinson from Viva Voce and Chris Funk of The Decemberists.
It's a combo that I never thought about, but after hearing their debut EP, I'm glad they got together. The band also features Evan Railton from The Swords Project and Seth Lorinczi from Golden Bears.And if that doesn't entice you, the EP also features an appearance by Corin Tucker. It's available for purchase over here.
Blue Giant has one performance at SXSW listed, but I think they might be doing at least one other event. If I learn more, I'll update this post. (be sure to add them to your SCHED*)