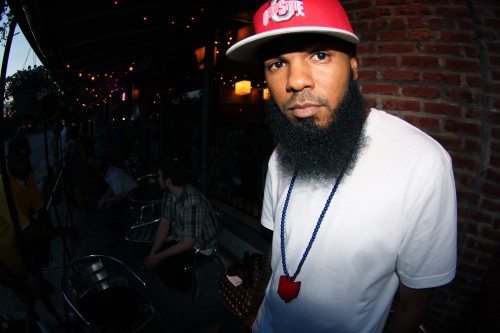 Here is a picture of Stalley at Bodega.
The narrative is that Stalley moved to New York to play basketball from Ohio. He eventually linked up with Mos Def, Dame Dash, etc, and now is getting back in touch with Ohio. He went to a Cavs game with the Eighty81 crew.. He visited his old high school in Massillon.. He hung out in the Short North with me.. And he recorded music with some Columbus artists which is availble below.
The Smoking Section put up an EP that Stalley did with a Elevator Music, a Columbus based label slash collective.
The narrative leads to tonight's show with Elevator Music.
MP3: Elevator Music Present Stalley Columbus
(via the smoking section)
01. L.e. – The Format (Freestyle)
02. L.e. – Late 4 Dat (Prod. By Rashad for Elevator Music)
03. Stalley – Masterpiece (Prod. By Precize)
04. Stalley – Babblin' (Prod. By J Rawls)
05. The 3rd – Heart Of Gold (Prod. By Rashad for Elevator Music)
06. Truck North – Jill Jawn (Prod. By Kahri Ferrari)
07. O.G. Flow (Truck North & Rapper Big Pooh) – Dutch Dalton (Prod. By Tony Baines)
08. The 3rd – Out There (Prod. By DJ Premier)
Here is an interview Donewaiting did with Stalley around SXSW time.