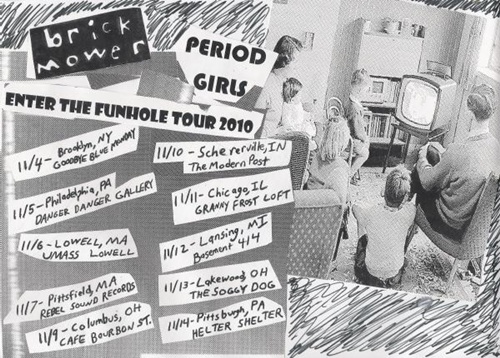 If you haven't already poked around Bandcamp, you definitely should. Tons of really great bands putting their music out there for you to download either for free or for a small fee.
I was searching for bands that referenced Fig Dish when I came upon New Jersey's Brick Mower. This trio, in spirit anyways, reminds me of locals The Kyle Sowashes and SPD GVNR in that they sound like stuff I was listening to and writing about in the mid-90s (Superchunk, The Breeders, GBV, etc). And, hell, any band that references Fig Dish (and whose singer sounds like FD's Blake Smith) is okay in my book.
Bruce Springsteen stinks
Nebraska isn't good because it's recorded on a 4-track
And we all know
Fig Dish ain't coming back
Brick Mower and Period Girls (featuring Brick Mower's Kit Gogan) are playing Tuesday night at Cafe Bourbon St. Show these Jersey kids a warm Columbus welcome, will ya?