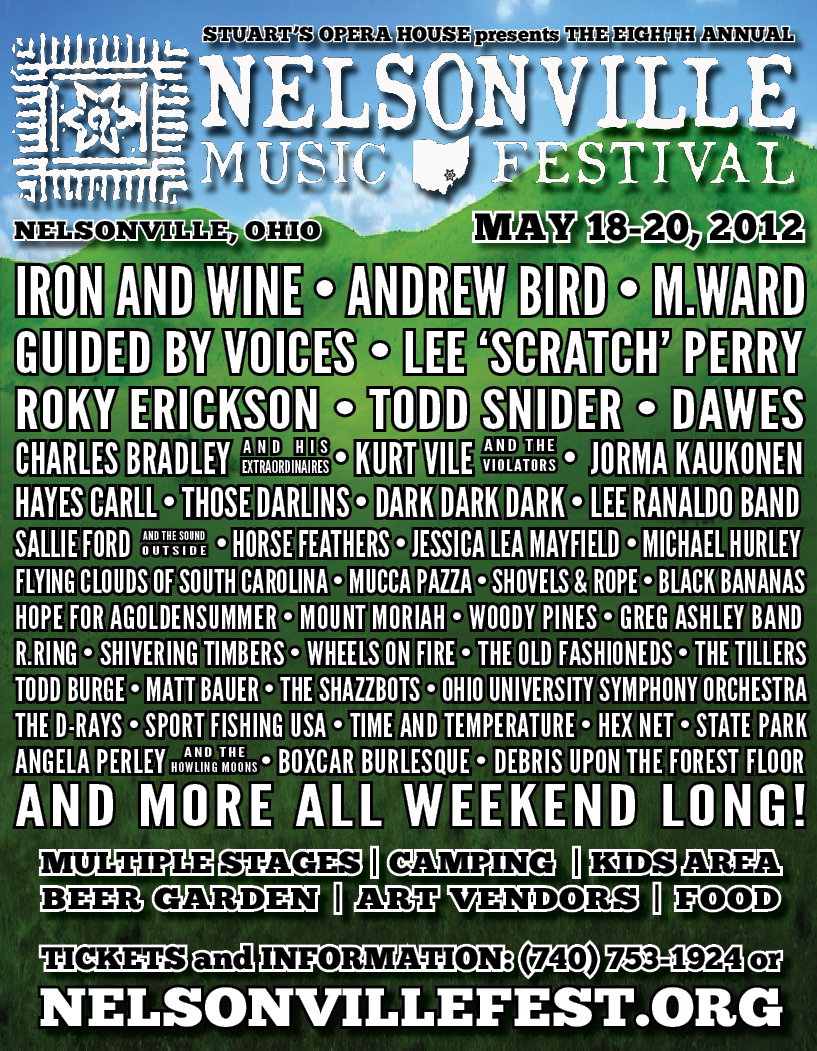 Nelsonville Music Festival heads into its 8th year with another impressive lineup. Lee 'Scratch' Perry, Roky Erickson, M. Ward, Andrew Bird, Iron & Wine, and many more are all slated to play Ohio's finest fest. Oh, and as Duffy posted, the pride of Dayton, OH — Guided By Voices — was just announced as well (classic lineup).
The obscure surname may have some scratching their heads, however, I can assure you the Nelsonville locale is what makes this event. Seeing artists of this caliber amongst a backdrop of Appalachian foothills rightly gives festival-goers the sense they are witnessing something very special. Plus, any jaded art wangler knows obscurity is vogue, yo, so go! It truly is an experience. Go here to purchase tickets and here to view the full lineup. If you wish to camp, you can purchase camping tickets here.
Below is an interview with Nelsonville Music Festival's Founder/Stuart's Opera House Executive Director Tim Peacock and NMF Marketing & Promotions Coordinator Brian Koscho:
NMF takes place in a humble, idyllic area of the country. Do you have any memorable reactions from artists when they first pulled in to play the fest?
TP: The reactions are usually more about their experience than place. When some artists arrive in Nelsonville, they must wonder where the hell they are going. They are almost pleasantly surprised to find we have a killer little festival that is not a hassle for them. Our crew is professional but laid back and they love that. We go out of our way to take good care of them and they see that and comment on it. Every year we get more and more submissions from agents who want their
other bands to play Nelsonville, so that tells us we are getting good feedback on that level as well.
BK: Tim is correct! I think it is mostly how they respond by the end of the weekend, that's when you realize how special the event really is. Aside from that I remember a couple reactions in particular… Sean Lennon (who played last year with Ghost of a Saber Tooth Tiger) seemed very surprised at all of the nature, asking us quite a bit about what kind of bird we had. And Glen from Swell Season (in 2010) was very, very happy that we had a big jar of "American Peanut Butter" as part of their hospitality. He took it with him on the road when they left. Continue reading →