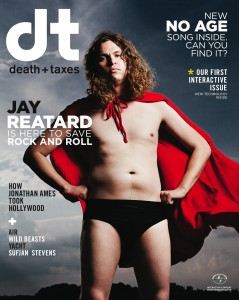 MP3: Jay Reatard – It Ain't Gonna Save Me
MP3: The Black Hollies – Gloomy Monday Morning
MP3: Bryan Scary and the ShreddingTears – (It's A) Gambler's Whirl
Pels ikke bjørnen før den er skudt. Or, don't skin the bear before it's been shot. That seems to be exactly what Jay Reatard's old band members tried to do when they walked out on him in October. (But then again, that's punk music, right?) Inconvenient timing (due to them being on tour at the time) seems to be the only downside from this situation as Danish band Cola Freaks are now officially on board the lo-fi garage punk project and have been trucking through Europe with him since. This seems to be a win-win situation, as he is finally visiting Columbus again (Sunday night at the Summit), now with a kick-ass European punch and seemingly quite happy about the new additions. He spent 10 days in October recording in the Freaks' hometown of Aarhus and has gone on the record about it, saying, "It sounds exactly the way I wanted these songs to sound like live when I wrote them." (Cue proverbial twisting of knife.) It's a good time to be Danish, as Jay and the band will also be opening for The Pixies on their Doolittle tour that kicks off this weekend in Chicago. Oh, and now Reatard's former rhythm section is apparently joining up with Wavves.
Reatard video and info on the Columbus openers after the jump. Continue reading →