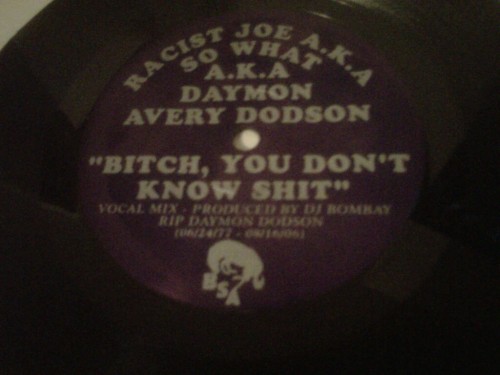 MP3: Bitch, You Don't Know Shit!
At the 6th Annual Daymon Day Parade on September 17th, we will be handing out 7 inches of Racist Joe's cult hit song Bitch, You Don't Know Shit produced by DJ Bombay.
Song is hilarious as Daymon raps about mythical sexual exploits that resonate all the way out to Polaris over the theme music to Soap.
And during times like these, who can't relate to the phrase, "Bitch, You Don't Know Shit!"?
Thanks to Michael Carney for designing the label and cover. Also special thanks to Mus-i-col for the quick turn-around on pressing, and Carabar for being supportive of this record from day 1.
After the jump watch people sing "Bitch, You Don't Know Shit" on the corner of 5th and High at the end of the 2009 Daymon Day Parade. Continue reading →