We're just a day away from the Bunbury Festival kick-off. I hope that, if you're going to the festival, you've found the artist features we've been posting during the last week to be helpful as you try to navigate the schedule and decide which bands you want to see.
View features by performance day: Friday, Saturday, Sunday
When the schedule was first announced, there were quite a few names I didn't recognize. I started with the acts that are scheduled to perform on Friday and tried to do some research (watching a video, seeing if the artist had any music on Bandcamp or Soundcloud, visiting Facebook pages, etc.). The first band I came across was Bo and the Locomotive – named by Paste Magazine as THE band that you should know from Missouri. It took me all of 8 seconds to determine that their video for "Give Me Something" was the greatest video I've seen since OK GO's heyday. And, like OK GO, I'm guessing Bo and the Locomotive spent about $15 (for beer and smokes) on the budget to make the video.
These guys have the unenviable task of playing very early on the Bunbury schedule. My experience with festivals like this is that the masses don't start arriving until early evening so that they can get a decent spot to watch one of the headliners. If you've learned nothing else this past week by all the Bunbury Festival featured artist posts, I hope that you've learned that there are some really great bands playing early in the day.
I'm not sure where you'll be 24 hours from now. Me? I'll be camped out watching Bo and the Locomotive and getting my Bunbury Festival off to a great start!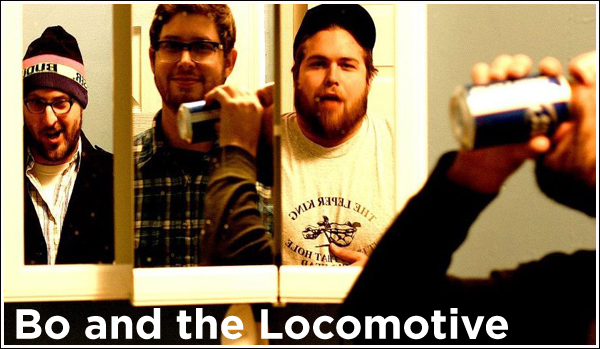 Bo and the Locomotive performs on the Bud Light stage at 12:45pm
on Friday, July 13
Bo and the Locomotive are a four-piece from St.Louis. Paste Magazine says: "Bo and the Locomotive has a well-crafted indie sound … Each member plays their role seamlessly, creating a record that has a variety of mellow and up-tempo songs."
What does "bunbury" mean? (No cheating; give it your best guess)
We already Googled it up when they asked us to play this festival. I won't spoil it for everyone else, but it means to avoid your responsibilities by claiming to have a meeting with a fictitious person.
What are 3 things that you know about Cincinnati?
– Might as well be in Kentucky
– We've never been there
– Go Cardinals