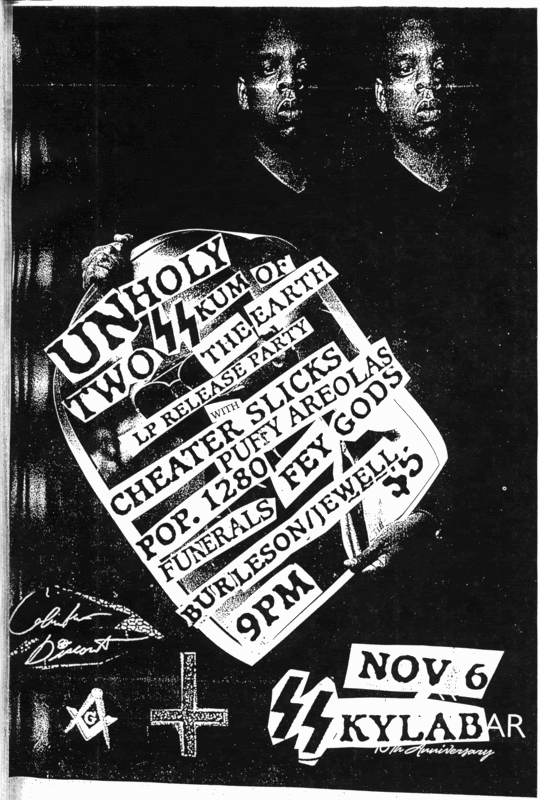 MP3:the Unholy Two-White Devil
MP3:the Unholy Two-Sullivan Killed Benoit
Say White Devil. I don't trust you. I may have been speaking a bit blanket last week when I told Waka Flocka Flame that he was the last punk rock artist standing, Especially flawed when I live in Columbus Ohio, home of Vile Gash and Columbus Discount Records, (ie 2010 I'm still fucking with Necropolis)
I apologize but what do you do when Waka Flocka Flame is yelling at you?
In all short-sided, blatant negative hubris and a half-truths, Columbus Discount Records' the UNHOLY TWO are actually the last Caucasian American Punk Rock band standing. I've seen Martin Weedsteeler declare to the heavens that only Adam Smith and Chris Lutsko are real. And Martin Weedsteeler usually only believes in the complete expliotation and disdain of music.
No, but Unholy Two doesn't just have the cosignture of total shit maniacs. Adam Smith produced the upcoming Times New Viking album…… which even you most die-hard, it doesn't exist if it didn't happen at an open mic or a local's only festival, loving your CITY to the point of not knowing or giving a fuck who MIke Repp or Jim Shepard is ……..must admit that you have seen the Times New Viking on the website you go to read about music on. And frontman Chris Lutsko is actually the only member of the Unholy Two because he no one wants to fully stand for his words but him.
Well, all half-baked hyperbole aside. Don't take my word for it. Go see one of Unholy Two's $$KUM OF THE EARTH release parties. November 6th at Skylab or one of their three New York shows. Or find their Nationally distributed record on shelves in finer record stores everywhere shortly there after.
When you move, at" the cool bars", people will ask you if you have heard of or know this band.
New York release parties after the jump
And yes this is really stupid. T
Continue reading →