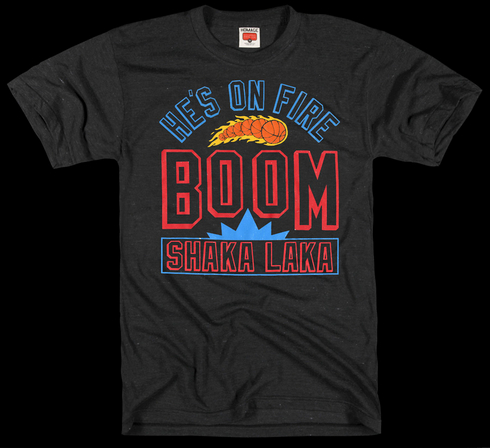 Mick Boogie, Homage, Dime , Major and MTVN.com have teamed up to celebrate the refreshed and remixed version of the greatest basketball video game of all time, NBA Jam.
The Homage Tee is above.
Download Mick Boogie's 93 til Infinity tape here.
Seriously, a new instant classic paying homage to one of the greatest eras of Hip Hop.
It has Das Efx, Souls Of Mischief, Gangstarr, Naughty By Nature, Dre, Grand Puba, Original Flavor, and Early Fugees…remixes…
Boogie's 93 til Infinity is like being a latch-key kid sitting in your friend's mom's house after school. Maybe you just went bombing. Maybe you just watched YO! MTV Raps.
Your friend just copped all the 12 inches with the exclusive B-sides that y'all heard on a bootleg Stretch and Bobbie mix and he is dubbing them to tape.
And you are playing NBA Jams.
Except now you are grown and have your own apartment and don't wear X hats that tie on the top.
Homage tee here
The good people at Homage got me in touch with Mick Boogie to walk down memory lane.
Did you play NBA Jam at the arcade?
Once or twice… there wasn't really an arcade near my house. But it was always THE popular game when I did go.
Did you have NBA Jam at home? Or did one of your friends? What game system?
Yeah… for Sega Genesis.
Did you play with Mark Price and Brad Daugherty? If not, who was your squad?
I'm pretty sure I played as Celtics. Always been my favorite team since I was a little kid.
Did you unlock any secret players? Which ones? Do you remember any codes?
I am way too old to remember any of that. Lol.
Starter jacket or Carhart?
Starter all the way!
Continue reading →