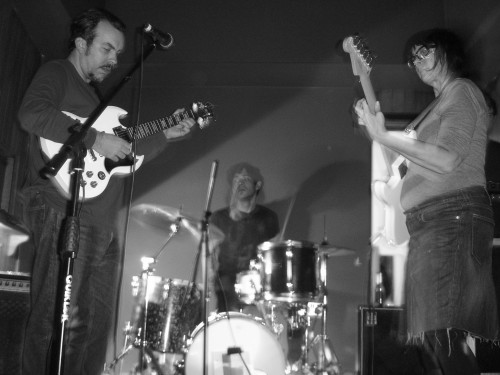 Wednesday night I hit up East London to catch the brilliant Dan Melchior perform songs from his latest record, Assemblage Blues (released by Siltbreeze). Aside from a keen interest in hearing his live show, I was proud to witness it feature two musicians well-known to the Columbus scene. Mat Bisaro (Guinea Worms, Necropolis) and Tony Allman (El Jesus de Magico) were chosen by Melchior for this ten date European tour through five countries.
I caught up with Mat and Tony for a bit after the show to chat about the tour and playing with Melchior.
DW: Did either of you work on Assemblage Blues?
Tony: He sent me stuff a long time ago, probably over a year ago now and some of it he's gonna record hopefully with us at some point for and LP on Columbus Discount. One of the songs we played on was one of those. But normally he records everything himself.. the guitar, the vocals, the drums, the bass. So eventually we're gonna try to do live recordings in Columbus.
DW: How did the two of you get hooked up with him to do this tour?
Mat: He put out two records with Adam and BJ on CDR and ended up being in town for their barbeque last year. Continue reading →