Editor's note: "Overlooked in Ohio" is a feature in which we ask an Ohio-based artist/music enthusiast to tell us about a band or bands from the state of Ohio (past or present) that deserve some love. Our sixth installment comes courtesy of Nick Schuld — resurrecter of Datapanik, player in Obviouslies and unearther of various Ohio treasures over at Minimum Tillage Farming. Nick has been here too long and is now insane.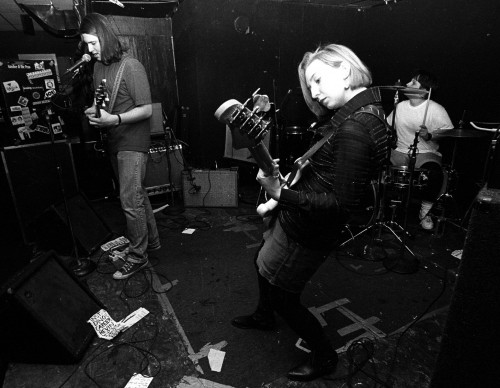 Photos by Jay Brown; copyright 2010 jfotoman
MP3: Assorted tracks from Cowtown EP, 45s, etc. (mediafire archive courtesy Minimum Tillage Farming)
MP3: Walk
A little while before I moved to Columbus in the summer of 1988 I discovered the glorious phenomenon that is the used record shop, so one of the first things I did when I got here was to scan the yellow pages for all the locals. At the time, cds still seemed neat and lotsa previously hard-to-find (for me at least, in small-town Virginia) stuff was showing up on that most durable of physical formats (*ahem*), so I took my giant Bekins box of tapes to Used Kids and wandered upstairs soon after with loot in hand to "little Mag's" – the relatively short-lived cousin of the still-thriving shop now calling the Short North home – since Used Kids was still strictly analog. (Well, maybe they had a few discs in a magazine rack by the door – but they woulda prolly been a little to the current/good/hip/obscure side of the Misfits and Lemonheads ones I was jazzed about.) Little Mag's was cool, trafficked mostly in t-shirts, and closed pretty soon after.
Fortunately this fate didn't befall Used Kids (tho' I did buy a t-shirt there once), and in the following months I started going down to the shop whenever I could find a ride or felt sufficiently over-enthusiastic enough to ride my skateboard from the suburbs and back. One day I bought a My Bloody Valentine tape and the guy behind the counter mentioned how good the upcoming show at the Ohio Union Ballroom was gonna be. I think I averted my eyes and barely mumble-nodded in agreement on my way out the door – for I was not always the obnoxiously assertive lug you all now recognize – but after the show I grabbed the fellow and yelled over the ringing in my ears how indeed it WAS quite the revelation. He grinned and said the last song was on their best record and had I heard it? I said no and he said he'd tape it for me; thus, my introduction to the illustrious Ron House. Continue reading →