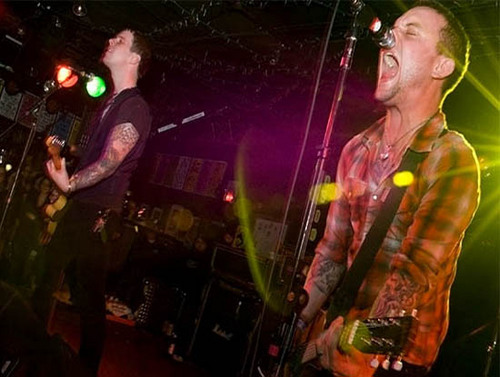 photo by k. maroon
MP3: The Loved Ones – Distracted
MP3: The Loved Ones – The Bridge
Back when I was a Philadelphia middle-school kid with a mushroom haircut and giant tortoise-shell glasses, I remember getting my introduction to the city's hardcore scene through a cassette tape by a band called Step Ahead. It was my older brother's tape, and like most kids with big bros, his music taste became my own, so I'd sneak a listen to anything he came home with. What made this cassette even cooler, though, was that Step Ahead's guitarist, Dave Hause, went to our school. That tape was my first experience with a DIY band. My brother gave me the evil eye whenever I said I wanted to go to a Step Ahead show with him, so I never saw them live, but I played that tape on my big, spaceship-looking Aiwa stereo often.
Dave Hause went on to play in more well-known hardcore bands (the Curse, Paint it Black), and these days you'll catch him playing catchy, polished punk-rock (with a pinch of Americana here and there) in The Loved Ones, which now includes Dave Walsh (ex-the Explosion). The Loved Ones released their full-length debut on Fat Wreck Chords last year, and this year they put out an EP called Distractions. (Judging by the EP's covers, they've been distracted by Springsteen and Billy Bragg.) Check out the mp3s above to see if it's your thing.
You can catch the Loved Ones here in Columbus on Monday, Oct. 26, at the Newport with the Gaslight Anthem and Murder by Death. And on Friday, Nov. 13, Dave Walsh will play a SWEATIN pre-show at Circus with Tin Armor, Dane Terry and Atlantic/Pacific (ex-Texas is the Reason), followed by Le Principle (Brooklyn Fire), Dustin Knell (ex-Adulture?) and CJ Townsend. Update: According to Sweatin, this show is not happening anymore.
And, for old time's sake, here's a track from that old Step Ahead demo tape…
MP3: Step Ahead – Apart (thanks Severed Forever)