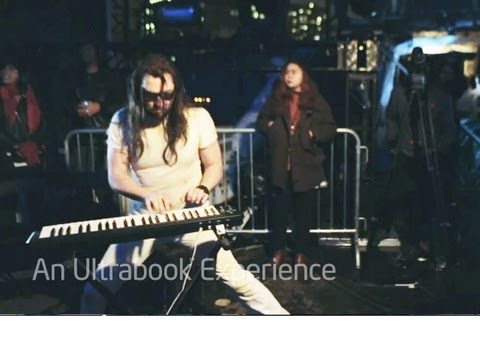 For the past 3 nights and 3 Nights David Blaine has stood surrounded by 1 Million Volts of Electricity in New York for a performance piece called ELECTRIFIED.  The volts were generated by the public who controlled the direction and intensity of the light and sound emitted by the telsa coils through Intel Ultra Book devices in stations in New York, London, Beijing, Sydney, and Tokyo along with the use of the #ELECTRIFIED hashtag.
Andrew W.K.(in the video above and interviewed after the jump), POP ETC, HEALTH, Gavin Russom, Prince Rama, WINWIN, and Javelin along with Pharrell, Darren Aronofsky, Rachel Weisz, Chris Rock, Woody Harrelson, Jonathan Cheban, Jemima Kirke, Harmony Korine, the Cults, and Alicia Silverstone all participated in the experience at Pier 54 in New York City.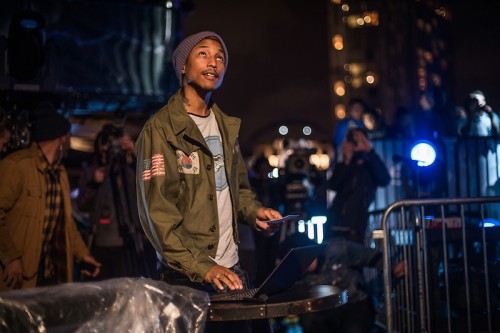 Pharrell thinkin' 'damn that's ill'
Today, Reggie Watts will play the tesla coils at 3PM. Additionally, there will be a special musical performance at 7PM for the closing of the event. The entire event stream here. Unless you are in China. Then it will be streamed here.
Andrew W.K. interview after the jump.