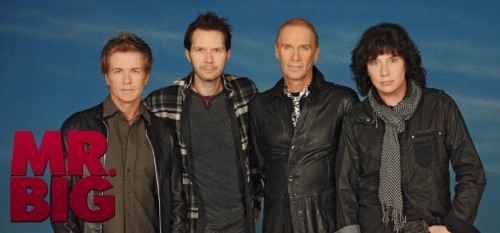 If you've over the age of 30, you've heard Mr.Big's 1991 chart-topping, power-ballad "To Be with You". Some 20 years later, you can still hear the song on a variety of satellite radio stations, from the '90s channel to the hair metal channel to the lite rock channel. It's also featured in the Broadway musical Rock of Ages.
The original lineup – Eric Martin (vocals), Paul Gilbert (guitars), Billy Sheehan (bass) and Pat Torpey (drums) – released 4 albums between 1989 and 1996. After Gilbert left in '97, ex-Poison guitarist Richie Kotzen joined the band and played on two Mr.Big releases before the band broke up in 2002.
A 2009 reunion – to celebrate the 20th anniversary of Mr.Big's self-titled debut – proved successful and in 2010 it was announced that the band would be releasing an album of new material. What If … was released earlier this year and Mr.Big hit the road to promote the first new album in 10 years.
On Saturday night, Mr.Big will play at the Alrosa Villa with Lynch Mob (featuring ex-Dokken guitarist George Lynch). This is the only date on Mr.Big's tour where the two bands are playing together so it's sure to be a memorable evening.
Paul Gilbert took some time last week to answer some questions I sent via his publicist.
The venue in Columbus where you'll be playing, the Alrosa Villa, is billing the show as it's "37th Anniversary Show". When you see the tour itinerary, are you aware of these types of things? Not that you'd necessarily plan anything special, but there might be a little bit of additional buzz because of the anniversary.
PG: Well, first of all, a hearty congratulations to the Alrosa Villa for keeping it together for 37 years. That's a long time to survive in the entertainment business, so they must be doing something very right.
My job is to play guitar, and I've been practicing and playing my guitar like a madman for over three and half decades, so hopefully that will give people something good to remember about their experience in the venue.
Continue reading →