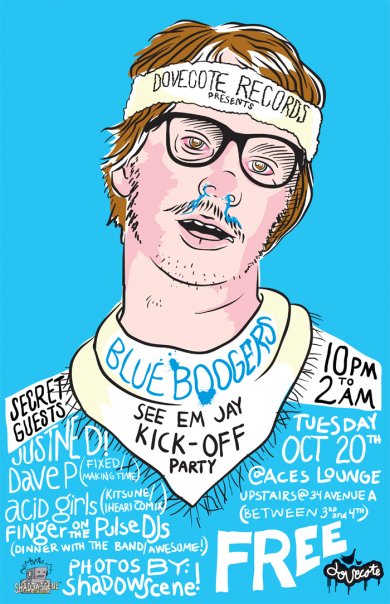 We just added Justine D! Justine is a NYC veteran well known for her DJing and her late party MOTHERFUCKER. Dave P, another veteran of the scene, when he's not too busy on DJ tours with Soulwax, 2manydjs, or Simian Mobile Disco he can be found in NYC throwing his highly acclaimed Fixed NYC party, or in Philly throwing the longest running and much revered party, Making Time. If that isn't enough to wet your whistle, try this on: ACID GIRLS! Acid Girls, on a full US tour with Jokers of the Scene, are making a pit stop to lay down some of the electro jams you've heard spread across the blogosphere and posted in record shops across the world lately. They've just released a single on Kitsune and another on IHEARTCOMIX and are ready for you on the dance floor. Now that your whistle is wet, we also have local greats Finger on the Pulse DJs. You've seen them, you love them, and you've woken up the day after swearing you'd never drink again after partying with them.

This party is free and it's first come first serve, so get there early!

YOU NEED TO RSVP HERE AND TO RSVP@DOVECOTERECORDS.COM

Next week is CMJ.

We used to throw parties where our bands would play and we'd all get drunk. Ah those were the days? While yes Tim Williams is playing some shows. We're not doing an official showcase. FROWNY. FACE.

OR SO YOU THOUGHT (sort of?)

We're still allowing everyone to get fucked up because we're throwing a goddamn dance party with the RADDEST DJs (Dave P, Acid Girls! how did we land them?!) we love and ToNz Of BoOzE. We've named the party "Blue Boogers," you figure it out. We don't condone said behavior.

Party will take place on the second floor of 34 Ave A (between 3rd and 4th Streets). This space is fucking AWESOME. It is above the bar "Aces And Eights" (HOLD YOUR ANGSTY SIGHS) which is normally not the coolest place, but the owner for some reason decided to deck out this floor and never use it. It is in fact a club. With a KILLER soundsystem, lights, craziness, but it only holds 120 people. Soooooooo YOU NEED TO RSVP TO RSVP@DOVECOTERECORDS.COM.

We are serious. We will not help you on tuesday if you forget to RSVP. We might be friends, but we probably wont be conscious.