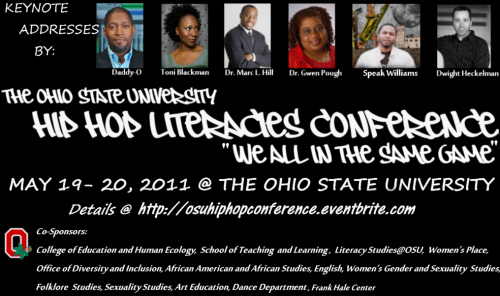 On May 19-20, The Ohio State University will host a Hip Hop academic conference entitled,
Hip-Hop Literacies: We All In The Same Game.
There will be panels, workshops and performances.
The conference is organized by Dr. Elaine Richardson aka Dr. E, professor of literacy studies in The College of Education and Human Ecology and author of Hip-Hop Literacies.
Daddy-O of Hip-Hop band Stetsasonic will head a Hip Hop and Technology workshop.
Stetsasonic was a pioneering outfit in the 80's that fought for artistic respect for Hip Hop, divestment in South Africa and still made party jams. Daddy-o also helped nuture Freestyle Fellowship, who were an innovative West Coast Hip Hop group in the early 90's.
Here is a pretty good interview with Daddy-O and Chuck D that aired on PBS in 1990
Other scholars and musicians involved: after the jump Continue reading →