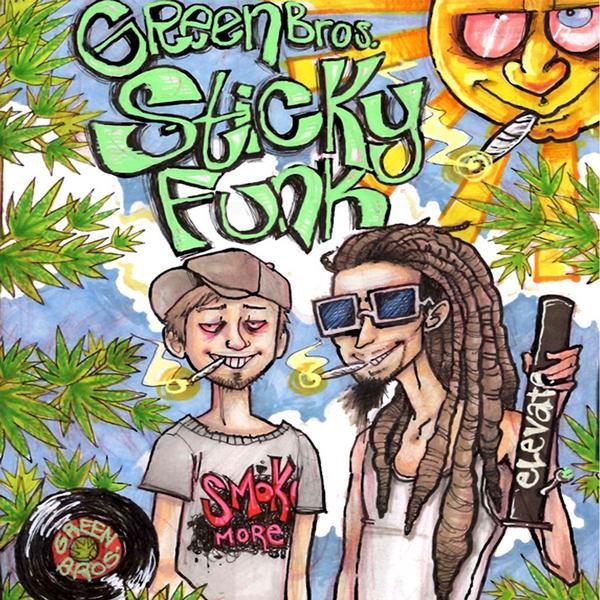 MP3: Clear Up My Mind
This weekend marks the release of Columbus' Green Brothers' second album, Sticky Funk Vol. 1, on Dove Ink Records.  As you may have already guessed by their group name, their album name, their album cover, etc., the Green Brothers are two weed-loving hip-hop fiends and they want you to join in on the party.  In the time since the release of their debut record Everybody's Green in 2006, Chicago MC Hiway 411 (AKA Racecar of Chicago hip-hop group Modill) ended the long-distance relationship with Columbus producer Claude 9 (AKA Eyamme), forcing Eyamme to reevaluate the project's lineup.  He soon found a like mind in Columbus DJ Bern One (AKA DJ Inform), and they united over Bern One's funk records and…some other stuff.  Sticky Funk was originally intended to be an entirely instrumental release, but eventually Eyamme decided he needed to take on the mic in the interest of their live shows.  The finished product is a patchwork display of the duo's talents.
Ten of the album's sixteen tracks are instrumental hip-hop tunes, often based on those gritty funk samples and many featuring Bern One's explosive turntable work.  The sound of these tracks ranges from upbeat grooves, like the snappy featured MP3, to mellow introspection, as on the back-to-back funky slow-burners "Top Down Funk" and "Crooning Guitar."  The vocal tracks are mostly message-based songs, like the inspirational "Call Me Cool" and the defiant "Guilty," or weed party jams, including the entertaining "Girls Gone Weed" and the slick posse cut "Word!," which features Columbus expatriate Bru Lei.  Eyamme is not at the top of the MC ranks yet, but his concise, confident flow helps fill the gap left by Hiway's departure.  The album covers a great deal of ground, both sonically and topically, but somehow the different flavors manage to flow together rather well.  This album is an interesting step forward for the Green Brothers, and it will be interesting to see where the weed takes the group next.
The Green Brothers will celebrate the release of Sticky Funk with a party at Skully's on Saturday, November 1st.  The show is part of Dove Ink's Open Canvas series, a monthly Gallery Hop after party and live art showcase.  Therefore, the supporting lineup is quite eclectic, highlighted by their Cincinnati-based labelmate, rapper Ill Poetic, and Columbus' two-man metal maelstrom Big Nasty.  The show is free and the music and art kick off at 9 PM.