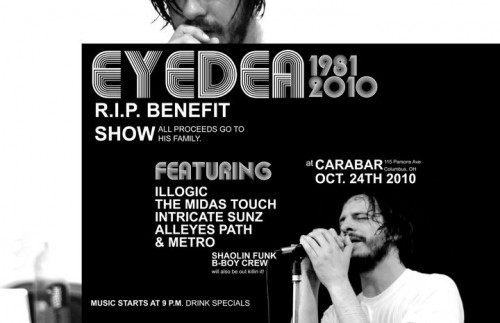 EYEDEA BENEFIT SHOW!

with the recent tragedy and passing of the very talented, and respected emcee Eyedea, the original Kristoff Krane tour has been canceled. We are turning this special night into a benefit/celebration/memory for the life of Micheal Larsen aka Eyedea. Much love and prayers goes out to his friends, family and fans. Please come out to this special event on Sunday October 24th. all proceeds will be going to Michael's family.

featuring special performances by
Illogic, Alleyes Path, The Midas Touch, Intricate Sunz, Metro and more!!!!!

WITH A SPECIAL PERFORMANCE BY SHAOLIN FUNK B-BOY CREW!

Sunday October 24th
music starts at 9pm.

FREE!!!!!!!!!!

REST IN PEACE EYEDEA (November 9, 1981 – October 17, 2010)
If you can't make it to Carabar but want to donate to Eyedea's family:
All donations can be directed to Micheal's Mom, Kathy Averill here.
after the jump Public Wake, and Minnaepolis Tribute Info, and quotes from Eyedea's mom, Blueprint, Slug, Dj Abilities, and alot more about Eyedea.
Continue reading →