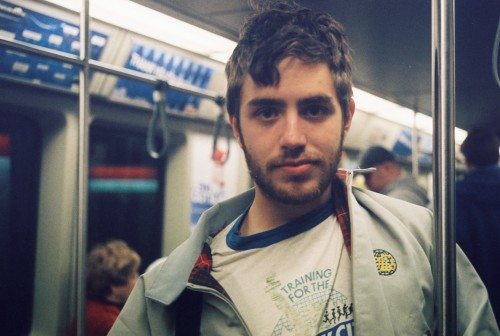 MP3:   Ezra Furman – Dr. Jekyll & Mr. Hyde
If the face looks familiar, it's because Ezra Furman has made a few stops through town over the last couple of years with his former backing band The Harpoons. One of these trips gave birth to the really great DonewaitingTV session, were Ezra & company did talking and playing with Wes Flexner and the Electraplay boys. It's worth your click, promise. This time around EF is hitting Rumba Cafe in Columbus tonight (8/11) Harpoon-less, instead supporting a new solo record The Year of No Returning. The first half of that record is available as a free download, if the MP3 linked above doesn't sate your appetite.
Ezra's solo work doesn't seem a vast departure from previous offerings- a jangly intersection of pop and folk, delivered by a voice that will likely forever be compared to a modern, pissed off Bob Dylan.   The comparison probably does EF a bit of a disservice, as he can whip from a plaintive croon to a frenetic howl in practically the same phrase.  I believe a more contemporary comparison would be to Dan Bejar (New Pornographers, Destroyer), as the two share more as they tend towards pop-punk than Dylan's mumble-folk.
The live show promises to tend toward the frenzied and fun side of things, but sure to include moments of wistful bliss. Continue reading →