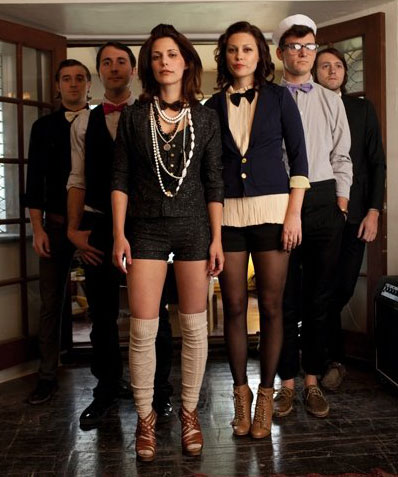 MP3: Summer Girl by Family of the Year
Family of the Year (pictured above) joins donewaiting.com buddy Alina Simone for a Whitesmith Entertainment showcase that is free to the public – no badges required..
Family of the Year's melodies are stunning… I can't wait to hear them live. Be sure to listen to more songs (or download their debut EP) over here.
It's no secret that we love Alina Simone. Donewaiting.com's little record label, Sunken Treasure Records, released a split 7″ with Alina and The Black Swans a few months ago. More details here.
Alina's childhood friend Eugene Mirman recently posted an MP3 of Alina's new, soon to be released album over at Magnet Magazine.
Lots of other great acts on the bill too:
WEDNESDAY, OCTOBER 21ST
The Living Room | 154 Ludlow St, New York NY

Emilyn Brodsky (7pm, with Brian Viglione of the Dresden Dolls)
Sydney Wayser (8pm)
Pinky Swear (8:30pm, featuring Rachel Trachtenburg of the Trachtenburg Family Slideshow Players)
Sara Benincasa (comedy, 9pm)
Elon James White (comedy, 9:15pm)
special surprise guest ! (comedy, 9:30pm)
Family of the Year (10pm)
Jason Trachtenburg (11pm, of the Trachtenburg Family Slideshow Players)
Alina Simone (11:45)

Multimedia: MediaVoxNYC

Hosted by Sara Benincasa and Emilyn Brodsky

7pm Show, 21+, one drink minimum, & no CMJ badge required