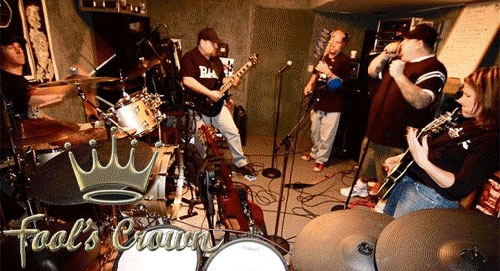 There's all sorts of metal in Columbus – if there's a certain niche you're looking for, you'll find it whether it be at some of the clubs (The Billiard Club, Alrosa, Ravari Room) or at CD stores (Magnolia Thunderpussy has an amazing metal selection). When it comes to HEAVY metal, my tastes run in the power/thrash metal genre, created or influenced-by early-to-mid '90s bands like Pantera, Slayer, Mastodon, Lamb of God. Locally, no band does this sound better than Fool's Crown. The band's Up the Antics (released 01/07) was a culmination of 4 years of writing, practing, performing, solidifying the line-up, and recording and was an ideal compliment to Pantera's Vulgar Display of Power.
MP3: Innocent Past Time Apology
Tonight – at the Billiard Club (911 E. Dublin-Granville Rd.) – Fool's Crown will drop their second EP, Engraving the Scars. A well-executed follow-up to Up the Antics, Engraving the Scars turns it up a notch with more fierce vocals (I can barely understand anything Keith Lucas sings screams but I don't care, it's damn good), Laura Miller's always-shredding guitar playing (it wouldn't happen in a BILLION years but if Pantera ever decided to reform, Laura would be my pick to fill Dimebag's shoes), and a POWERFUL rhythm section consisting of old pal Jim Swanson on bass and Matt Miller on drums. In late 2007, the mysteriously named "Z" joined Fool's Crown on lead/rhythm guitar to thicken the band's sound.
Not sure what time things kick off tonight or how much the cover is but joining Fool's Crown will be Kingsblood, The C.O.A.S.T., and The Council.