Tag Archives:
Freelance Whales
Tokyo Police Club, Freelance Whales
The Basement I Columbus, Ohio
July 28, 2010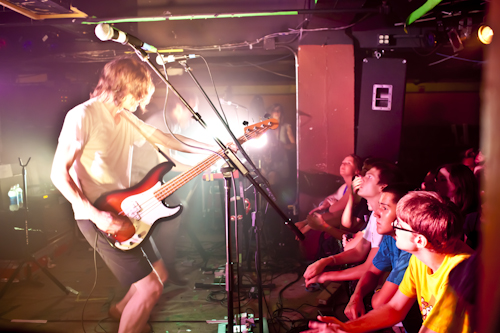 Continue reading →
Despite my confusion about whether I woke up in Columbus or Austin on Saturday morning, I triumphantly braved the cold and put in a good eleven hours of music listening/show-navigating on my last day of SXSW. My day began with a charming interview with the lovely Cate Le Bon (check back for full interview soon) and then took me to the MOG party where I camped out at for a number of hours. While there I caught performances by Dum Dum Girls, Demolished Thought (again sans Andrew WK), Freelance Whales, Broken Bells, The Antlers and The Black Keys.
Completely ignore the fact that I'm an Ohioan for one moment as I crown The Black Keys with the best performance of the party, hands down. Broken Bells was entertaining, but didn't stray too far from what I might expect from a Shins follow-up of Australia.
More bands and photos after the jump. Continue reading →