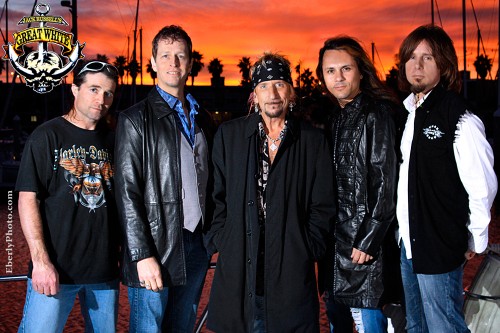 If you're reading this, you're probably already a Great White fan or at least a fan of the '80s hair metal genre. And, if that's the case, you probably already know that last year singer Jack Russell had a falling out with the other members of Great White (guitarist Mark Kendall, drummer Audie Desbrow, keyboardist Michael Lardie) and depending on who is telling the truth, either Jack fired the other members or the other members fired Jack. That stuff will all, most likely, be settled in a court of law, but the result is that there are now two versions of Great White out there. Jack, for the time being, is on the short-end and has to call his band Jack Russell's Great White while the other guys recruited Terry Illous (XYZ) to sing on Elation which was released, under the name Great White, last month by Frontier Records.
Jack Russell's Great White is hitting the road this summer, headlining the America Rocks tour which also features Faster Pussycat, Bulletboys, Pretty Boy Floyd and Lillian Axe. The America Rocks tour hits the Columbia Music Arena in Portsmouth on Wednesday night ($20/advance) and the Alrosa Villa in Columbus on Friday night ($28/advance).
I'm a HUGE fan of the '80s hair metal genre and anytime I get the chance to talk to somebody I grew up lip-synching to in front of my bedroom mirror as a teenager, it's a thrill. Talking to Jack was no different – the 17-year-old me was pulling a Chris Farley interviewing Paul McCartney ("Remember when you toured with Whitesnake? Remember you played in Cleveland? I was there. It was AWESOME!").
Here's what Jack had to say.
Continue reading →