A few weeks ago we celebrated the 4th annual Daymon Day here in Columbus. We had a basketball tourney, tribute mural, emcee battle, parade and a rowdy dance party. We got our Rucker park on and then brought it into the streets.
For those that aren't familar with Daymon Day but like things perhaps reading this article before or after viewing the following videos and pictures might give you some background info.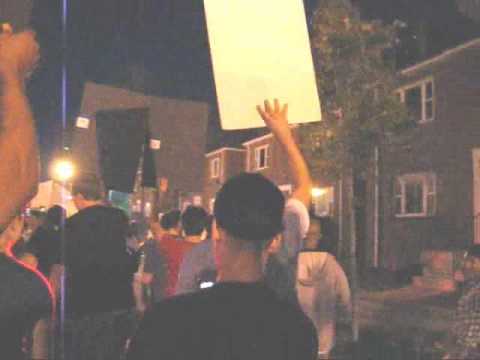 This video shot by A.J.(i think) shows the parade.
Watch it if you think marching 300 plus people in the middle of the road to Black Sabbath, Dilla, Cam'ron, M.O.P. , DJ Przm, Camu Tao, Jim Jones,Pharoah Monche and Racist Joe instrumentals to honor their fallen loved ones on an OSU gameday sounds interesting.
Photos taken by Danielle Kline that show a different detail after the jump. Continue reading →