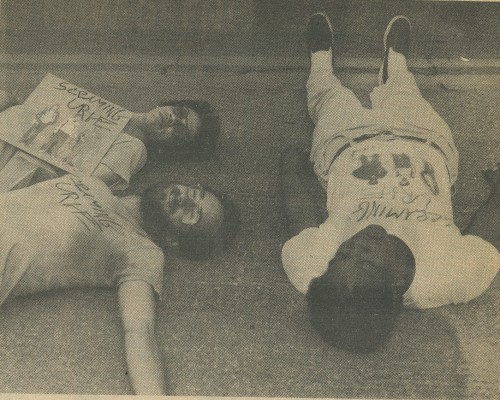 Screaming Urge High Street 1980
MP3: Hitlers In Brazil
MP3: Skitzo Brain
MP3: Killa Poe Lease (Kill the Police)
I wrote an article on Screaming Urge in this week's The Other Paper. Screaming Urge were a pioneering punk band from here in Columbus that had their last performance on Saturday. The band had a lot of interesting things to say, so I figured I would post the interview with Columbus legends on Donewaiting.
The three above songs are off a cd Screaming Urge just released called Gory Years. Gory Years has remastered versions of Screaming Urge's two albums, and their coveted 45. Classic material recorded from 79-81. I believe you can obtain a copy of this cd by contacting Screaming Urge's Facebook.
I interviewed Michael Ravage (MRav), and Myke Rock (MRock) for the Other Paper story. Dave Manic, who also played in Great Plains, was not there for the interview because he lives in Erie, Pa. Dave Manic did play the reunion show. (Shirtless but without a half-beard). Danielle Kline who took the photo for the Other Paper story also asks a few questions.
W: What was Columbus, OH like in 1978?
Michael Ravage: We couldn't get into any clubs. They wanted bands like McGuffey Lane. Cover bands. There was no punk. There was us, The Blades, (two bands whose names I couldn't make out.hopefully someone post the bands names in comments)
W: How did you get into punk?
MRav: I was listening to a lot of Iggy Pop so that's how I got into it and then went from there to the Sex Pistols.
W: Where was your first show?
MRav: Believe it or not it was at the Campus Methodist Center. I invented a thing called the 'Nowhere shows' they were called "Nowhere Fests," we couldn't find any place to play. I rented out the hall and we called it "Nowhere '78" we brought the four punk bands together to play and that was our first show.