Tag Archives:
journey
Two nights in a row, a lot of great things going on around town.
Detroit's Sisters of Your Sunshine Vapor bring their reverb-drenched, psychedelic rock (ala Black Rebel Motorcycle Club, Black Angels, Spacemen 3) to Cafe Bourbon St. where they'll share a bill with Moondrones and Love Culture. The band's new CD is available as a free download on their site so check out the hazy sounds and then head to the show.
Like Giants, the band formed and fronted by ex-Hot Damn guitarist Ashleigh Wells, are holding an EP release party at the Scarlet and Grey Cafe. While I mourn the demise of Hot Damn, I've always been a fan of Ashleigh's vocals (which were a bit underutilized in her previous band) and am really excited that she's now front and center of her own band. Not sure if this is what Like Giants were going for, but the EP sounds to me like Sarah Shannon (Velocity Girl) fronting a mid-90s post-emo pop band, and that, my friends, is a sweet, sweet sound. As far as 2009 local releases go, I think this is one of my favorites.
Also happening
And, finally …
The ultimate Bon Jovi and Journey tribute band, Bon Journey will be at Flannagan's in Dublin.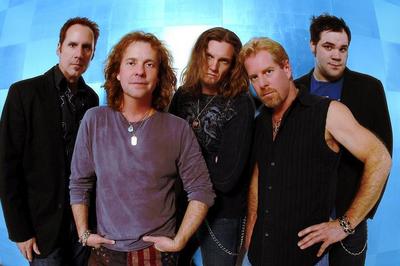 As a 12-year-old kid in Port Jefferson, New York, I distinctly remember Night Ranger's Dawn Patrol being the first cassette I ever played air guitar to while standing in front of my bedroom mirror. Of course, it wasn't actually an air guitar as I snuck my mom's metal yardstick up to my room and pretended to be Brad Gillis while I made all sorts of rock star faces in the mirror.
25+ years later I had the distinct pleasure to speak with Night Ranger vocalist/bassist Jack Blades about the band's history and their upcoming performance in Columbus with Journey. It was a dream – a dream that started back in 6th grade as you'll hear during the interview – come true. And throughout the 20-minute interview, pay attention to how often Jack mentions the Schottenstein Center, Columbus, and calls me by name. This guy is a true profession and obviously had his talking points laid out in front of him prior to my calling.
MP3: Jack Blades of Night Ranger interview
Catch Night Ranger Wednesday night as they open for Journey at the Schott. Tickets run from $22 to $124.50.