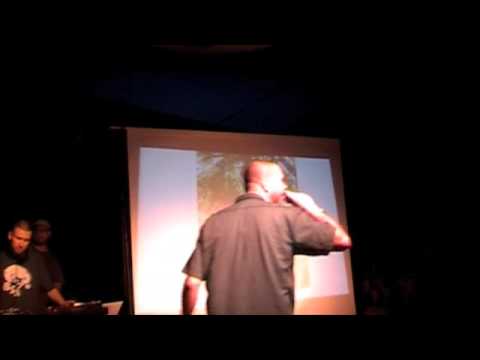 You know Donewaiting rides for rapper Envelope. He rides for us. Envelope played our Third and Sixth anniversaries.
Above is a video Jessica Morgan took of Envelope's epic Comfest performance that was cut short because of some sort of noise rule that placates cowards  in nearby townhouses.
Well Well…looks like Envelope has a shot being the highlight at another outdoor festival here in Columbus
CD101 is having this thing where you vote for  on their website to pick who plays their  Summerfest with fellow Monster House alums, Matt & Kim and some other groups. If Envelope is added to this festival then his music will end up in regular rotation on CD101.
Aside from him being a good dood,  really no artist ,save maybe TNV  or Blueprint, deserves radio more than Envelope when you account draw,record sales, and resonance with an audience. 
So help Tony help this world be less mediocre.  Click here to Vote