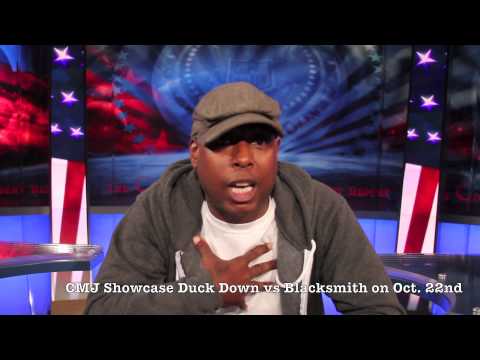 Talib Kweli & Mos Def aka BlackStar will be on the Colbert Report Tonight(Wednesday), which airs at 11:30pm. Blackstar will debut a new song "Fix Up" tonight on the air.
Yesterday, Blackstar cancelled their New York, Los Angeles, Las Vegas, Anaheim, Charlotte, Cincinnati and Indianapolis shows.
So today, Kweli hopped in the Colbert Chair to film this PSA about the Duck Down Records vs. Blacksmith CMJ Showcase on October 22nd at the Music Hall of Williamsburg. The showcase features performances by Talib Kweli, Pharoahe Monch, Jean Grae, Buckshot, Smif N Wessun, Kidz In The Hall, Promise & a special 'Population Control' music set by Statik Selektah.
Flyer after the jump
Continue reading →