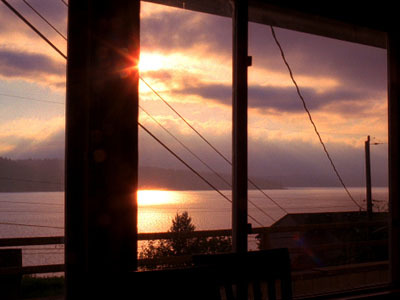 MP3: Put Some Sugar on It by Half Japanese, from the soundtrack
BUY DVD: Amazon.com
Documentary Kurt Cobain About a Son doesn't contain any of the elements a viewer might reasonably expect from a documentary about Cobain.
The subject is never properly introduced or mentioned by name until the end. Footage and even photos of him are likewise mostly withheld until the very end. No one close to him, nor any experts or commentators who might provide any part of his story or its context, are called upon to opine.
The story of Cobain's band Nirvana, i.e. the reason he's famous and the fodder for projects like this at all, is glossed over. In fact, none of their music is played throughout the film's 96 minutes, the soundtrack consisting instead of some of Cobain's favorite bands and influences—Young Marble Giants, Queen, Creedance Clearwater Revival, Scratch Acid, The Butthole Surfers, and others—with the closest thing to a Nirvana song being David Bowie's "The Man That Sold the World," which Cobain and his bandmates covered in their MTV Unplugged performance.
There may be real world reasons for these conspicuous omissions—perhaps no one would talk to director A.J. Schnack, perhaps the rights for the use of the Nirvana catalogue were off-limits—reasons I don't know, and don't really care about. Whatever lead Schnack to make some of the unusual creative choices he made in constructing the film, the end product suggests this approach was ultimately the best one. In fact, when the film ends with a photo or two of Cobain's face, and a pointless post-script telling us that Cobain committed suicide just a year after the end of the interviews, it seems like a mistake to include them at all.
If nothing one would expect in a Cobain documentary is present, what is? Schnack has access to over 25 hours of audio interviews that journalist Azerrad conducted one-on-one with Cobain for his 1993 book Come As You Are: The Story of Nirvana.