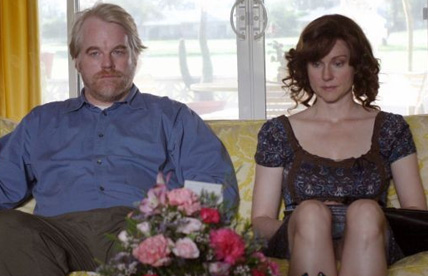 It's been almost a decade since writer/director Tamara Jenkins's semi-autobiographical coming of age comedy The Slums of Beverly Hills, and yet there's no signs of rust or dust on her latest, a semi-semi-autobiographical melancholic comedy about one of the least funny topics imaginable—putting your demented, dying parent in a nursing home and then watching them die.
In a somewhat surreal opening in the incredibly surreal Sun City, Arizona, a brightly colored paradise for the aged and elderly, we meet Lenny Savage (Philip Bosco), who is beginning to lose his mind. When his equally elderly and sick live-in girlfriend dies and her family claims her house, Lenny finds himself without a home.
Enter his two adult children, Jon and Wendy Savage (played by Philip Seymour Hoffman and Laura Linney, respectively), whom Lenny abandoned as children and apparently abused to some unspecified degree. Both have grown accustomed to having nothing to do with their father and little to do with one another, but find themselves reunited and forced to care for him, despite having plenty of growing up to do themselves.