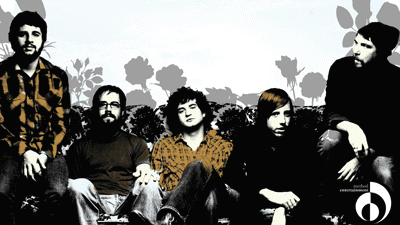 My buddy Jason hit me up via IM and told me about this "sick" band that he's been listening to called The New Frontiers. "They kind of sound like The Damnwells," he said knowing my weak spot. Of course, for every 10 bands I'm told sound like The Damnwells, maybe only 1 or 2 come even close. The Damnwells comparison is a good one – The New Frontiers play the same style of road-weary Americana rock wrought with emotion.
As I listened to their debut full-length, Mending, which was officially released by the Militia Group last week, I detected a hint of Brit-rock (ala Coldplay) in the sound from the band from Dallas, Texas. It should sound out of place on an album that rightfully belongs in the "alt.country" section of your favorite indie rock CD store, but it works and works well. Vocally, Nathan Pettijohn reminds me quite a bit of Scott Williams of Bel Auburn and anybody who's been reading my stuff long enough knows that a band that mixes The Damnwells and Bel Auburn is sure to be a hit with me. Guaranteed.
I couldn't find any MP3s to link to so check out The New Frontiers on their MySpace page and on Virb.com.
I'm not sure where on the bill The New Frontiers will be on Monday night (the bill also includes local band This is My Suitcase, John Ralston, and headliners Limbeck). I'm guessing they'll play second (after the local opener). Doors open at 7:30. Show up early and don't miss these guys.